Great restaurants are spawned by creative geniuses able to mine otherworldly depths when coming up with completely out-of-the-box ideas, after which they're so exhausted they just end up naming their roof-top restaurant, The Roof. So...potentially doing that, the dude behind The Roof On Wilshire at the Hotel Wilshire.

Opening to the public tomorrow, The Roof is just that, a top-floor poolside restaurant from the guy who made his name at The Foundry On Melrose and The Next Iron Chef, featuring a bistro-style menu, cabana-side seating, and views so crazy/beautiful, Kirsten Dunst will attempt to sleep with them just to get back at her father. Dinner-wise, you can choose a main protein (pork belly; seared tuna; duck breast), and pair it up with a selection of creative sides and apps, like fried Brussels sprouts w/ bacon, caramelized corn w/ chili-watermelon glaze & queso fresco, and Absinthe-steamed mussels, aka why your trainer stopped letting you come to the gym on Saturday nights...in Prague. They've also got breakfast and lunch w/ AM foodstuffs like German pancakes w/ lime, almonds & powdered sugar; dude's famous pancake lasagna; and soft scrambled eggs w/ challah toast, which usually contain several loving references to "mensches".

If you're not eating because you already had several Craisins on the way to the resto, the full bar sports cocktails like the Cue Southside (vodka or gin w/ cucumber, mint & lime), the Vallon (Irish whiskey, bitters, sugar & orange), and a specially concocted homemade Bloody Mary, though given their naming prowess it's a wonder it's not called Vodka with Tomato Juice, Horseradish, Celery, and Some Other Things.
Recommended Video
Live Your Best Life With This Buzzin' Bee's Knees Cocktail
Previous Venue
Next Venue
Venue Description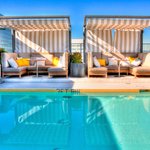 1. The Roof on Wilshire
6317 Wilshire Blvd, Los Angeles, CA 90048
Getting to the rooftop restaurant atop Hotel Wilshire is a little complicated because you have to take two elevators, but once you make it to there, you'll never want to leave. Cabanas surround the pool and no matter where you stand, you'll get panoramic city views of the Hollywood Hills and Mid-City. Chef Eric Greenspan helms the all-day restaurant and bar with creative plates like pancake lasagna and a Wilshire (not Waldorf) salad.