Better than <em>Pop-Up Video</em>. Slightly.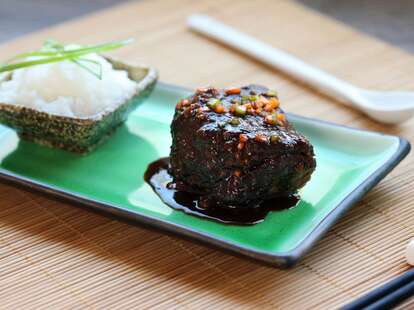 Quick -- if you could have one thing delivered to your doorstep right now, what would it be? No, besides alcohol, Cheez-Its, and puppies. What's that? Gourmet meals made by notable chefs?? Well, you sir, are in luck: just now launching in LA, Pop-Up Pantry's a gourmet meal-ivery service that drops off three-course, notable-chef-made, heat-up-able dinners at your doorstep, all for the price of takeout
Here's how it works: sign up for free (!), peruse the three-coursers, choose the sweet sausage calzones (duh), then tell 'em when you'd like it delivered (i.e. after your alcohol, Cheez-Its, and puppies) and it'll come to your door frozen and ready for you to reheat. Pretty much all of it's made sous vide (a fancy cooking method that basically makes it super juicy), meaning all you have to do is drop a bag in boiling water, spend the next 30mins debating the merits of Aidan over Mr. Big, then pop the bag outta the water, pop the food outta the bag, and eat it. The aforementioned notable chefs putting these little vacuum-sealed wonders together include dudes you've seen on the Cooking Channel, sorry, "your girlfriend has seen on the Cooking Channel and happened to mention it to you in passing" like The Fabulous Beekman Boys, plus lauded cookers from high-end restaurants including Napa Valley Grille and BLT
Oh, and it's subscription-based, so after your first order you'll start getting two or more a month, a number that you'll likely increase based on how many bottles of alcohol/Cheez-Its/puppies you've had today.