A Former Animal Chef's Private Dinner Club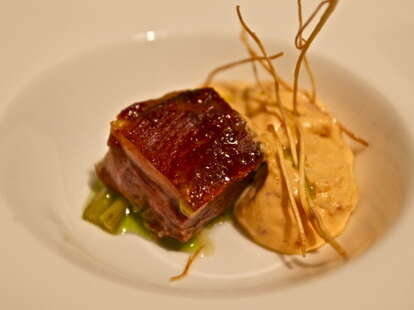 Also what Will Smith used to say he was working on before someone finally told him the film was called The Pursuit of Happyness, The Vagrancy Project's a super-stealthy private dinner club that's run by a dude who chef'd at Animal/Son Of A Gun, and is staged in totally random houses throughout LA.
Here's how it works: Vagrancy's built a master list of slightly-above-average attractive people who receive a proprietary list of event dates. The first handful of repliers (they keep it mad-intimate) are then privy to must-have, on-the-DL important-ness like location & time, length of the meal, and 2007 vintage Jason Schmidt.
Topping 10+ courses, the donation-based fetes themselves -- which'll eventually fund a less private, more open-to-the-public restaurant -- all have themes (e.g. "I Live in the Wild", "Welcome to the Jungle") and include nuts-nuts-nuts foodstuffs like 24hr-marinated goat rib cubes served w/ fried garlic root; tea, butter & raisins-topped rabbit; and skate w/ burnt milk, wine grapes & the oddball Italian vegetable Castelfranco, aka what Julio built with his 36yrs worth of MLB paychecks.
Dude's got four dinners coming up this month with spots saved at each for Thrillist readers, so check out the dates below and email to get on the list, or just keep working on that Rubik's Cube, it'll totally come in handy one day when you're homeless and need a job as a stockbroker.