This classic bistro makes the demanding Fave Five cut by coming up with the sounds-kind-of-weird-but-ends-up-tasting-genius idea of combining the raw & the cooked, by topping a slab of grilled beef w/ a monster serving of fish, either in the form of Yuki's Spicy Tuna Burger (w/ ginger, nori & wasabi-shoyu mayo), or the Chef Katsu's Original California Roll Burger, which's topped w/ a heap of snow crab, which you usually find in the lodge of Mammoth surrounded by empty bottles of Charles Shaw, though again, no one saw nothin', you hear me?
Recommended Video
You've Been Waiting Your Whole Life to Face San Diego's The Kraken Burger
Previous Venue
Next Venue
Venue Description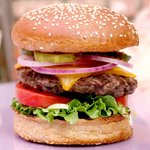 1. 26 Beach
3100 Washington, Los Angeles, CA 90291
Here's a pro tip: When driving towards Marina Del Rey, all chain burger joints along Washington can be ignored -- it's 26 Beach you want. What outwardly appears to be a swanky, modern seafood restaurant is actually a funky little vintage eatery where goliath burgers dominate the menu (you still, however, can get a few seafood entrees here). Whether you go for the classic like The 26er or one of the other 30 more experimental creations, you'll have to throw manner aside to fit one of these towers in your mouth (and, most likely, your stomach.