In a transparent attempt to drive up Bugle Boy's stock price by making all those artists buy less-skinny jeans, 'cue-master Myron Mixon birthed Pride & Joy in Wynwood: a massive indoor/outdoor honky tonkish roadhouse filled with hundreds of throwback beer cans that've been transformed into murals and light fixtures, rifle-antlered steer skulls, and an old pickup truck that looks like it drove into a pillar in the middle of the bar


"Big Bites" include Fried BBQ (basically hush puppies stuffed w/ brisket...yep), shredded pork-topped deviled eggs, and baby back mac, in addition to a BBQ bourbon burger, a brisket cheesesteak, and a platter of St. Louis ribs, pulled pork & chicken called The BBQ Board, which's also something Louie Anderson sits on, and then all the other board members are like "Louie, stop sitting on all the food", and then he gets off and they eat it

They're open 'til 3a on weekends, giving you plenty of time to work your way through 50+ brews (Chimay Blue, Shipyard Old Thumper, Cigar City Jai Alai IPA), 25+ vinos, and cocktails like the highly complex King's Drink (a massive glass of Crown w/ a splash of water), the Big Texan (Wild Turkey, grapefruit juice, simple syrup, basil) and the rum/grenadine Southern Punch, or what will be dispensed if some hipster calls some other hipster a hipster.
Recommended Video
The Mexican-Style Grasshopper Tacos You Have to Try When You're in South Beach
Previous Venue
Next Venue
Venue Description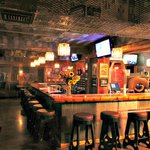 1. Pride And Joy
2800 N Miami Ave, Miami, FL 33127
Pride & Joy is a BBQ-inspired roadhouse filled with hundreds of antique light fixtures (...made of old beer cans...), animal bones, and an old pickup truck (yeah, inside). They also are home to a particularly stellar BBQ meal.