What's "an upper middle class Jewish kid from Miami" to do when all his friends become doctors and lawyers? Become a lawyer for doctors, naturally! "just a blue collar cook" who's opening, well...Blue Collar, a retro-dinerish spot serving all his childhood faves out of a storefront in the awesomely shady Biscayne Inn, with an open kitchen, mid-century white mod chairs, and a wall full of vintage lunchboxes to make it "as inviting as your favorite pair of jeans", although they probably clean this place more often


The decidedly non-Kosher menu puts a gourmet Latin spin on smaller "Nosh" stuff like vaca frita-topped tostones, Berkshire sausage, bacon-/fried egg-stuffed pork & beans, plus shrimp & grits (w/ Trugole cheese, Nueske bacon & 'Nawlins-style BBQ sauce), and homemade apple sauce-slathered Chanukah Latkes, because Chanukah dreidels are terrible for eating

Bigger plates deliver crispy-skin snapper w/ rock shrimp fried rice, fried tempura grouper, and the "Big Ragout" pasta piled w/ veal shoulder, pork, and brisket, in addition to chalkboarded daily specials ranging from short ribs to braised ox tail -- as opposed to Mox tail, which silly Dawson just walks right out on even though it's only wearing whipped cream


For boozing purposes, they've got nothing but Manischewitz flowing like goddamn water beer and wine, including a Barbera that's "light and tangy", plus Cigar City IPA, Terrapin Rye, and Guinness in "really big cans", which can presumably also be provided by many of the owner's doctor buddies.
Recommended Video
Potato Skin-Breaded Queso Balls Will Make All Other Apps Obsolete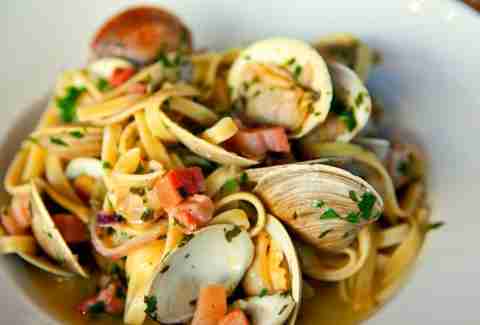 Previous Venue
Next Venue
Venue Description
1. Blue Collar Restaurant
6730 Biscayne Blvd, Miami, FL 33138
Blue Collar's mission is to give off a true neighborhood hang-out vibe, which it successfully does with a huge menu of comfort food staples. Every day, the kitchen serves a different rib dish (baby back, short ribs, spare ribs, etc), parmesan dish (chicken, veal, pork, eggplant, etc), and a braised dish (brisket, pot roast, ox tails, pork shoulder). There's a whole chalkboard of vegetable sides to counter the meaty entrées, and appetizers like definitely-order-or-you'll-regret-it potato latkes. Don't even get us started on brunch -- just make sure you get there early.