The brainchild of a Manhattan-turned-local trio (Blue Piano, Setai, Four Seasons) still claiming a "heavy schmear of NYC swagger", Phuc Yea!, opening next Thursday, is a name you should say as much as possible as it sporadically stages 36-seat Vietnamese dinner takeovers of Downtown's Crown Bistro (which'll still be doing lunch), during which they'll roll in temp decor like brightly colored panels/curtains and family photos from the '50s and '60s, a time when men were men, and women were too busy sleeping with John F. Kennedy to pose for photos

The weekly menu'll rotate in "regionally traditional fare that you don't traditionally find anywhere else" in the form of 12-15 shared small plates including Cha Gio rolls stuffed with pork, crab, shrimp, and glass noodles, Heo Xao Chua Ngot (sweet 'n sour chicharrones/ crispy pork belly/ pineapples/ pickled onions), and spicy steamed mussels with lemongrass, beer, chiles, crusty bread, and herb butter, which can't believe it's not butter, even though it's definitely butter...man, this butter is stoned. Larger dishes'll bring Mama's Wonton soup (actually made by one of the owner's moms!), BBQ Brisket wrapped in homemade pickles, and Five-Spice Pork Belly, which's presumably Ginger, Scary, Sporty, Baby, and Posh trying to have sex with a Hype Williams VHS. What else could it be?

Phuc'll also stock a heady lineup of homemade beverages along with craft beers and German wines, as well as play jams from their favorite '90s hip-hoppers and '80s hair bands, that rare breed of women who managed to pose for pictures and sleep with everyone. Wait, Queen is dudes?
Recommended Video
Meat Flowers Are Here to Give You The Best Valentine's Day
Previous Venue
Next Venue
Venue Description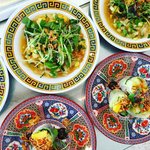 1. Phuc Yea
7100 Biscayne Blvd, Miami, FL 33138
Back by popular demand, one-time pop-up Phuc Yea is here to stay with this mid-century-designed brick-and-mortar. The Vietnamese-Cajun concept from the team behind The Federal is serving up soulful food with 90s hip hop blaring from the speakers. Expect traditional noodle dishes like Banh Cuon -- dry shrimp rice noodles, pork, vegetables, finished with flavors from the Thai spice pantry -- and more fusion plates like the Caja China Cola Duck, served in lettuce wraps and topped with Coca Cola hoisin sauce. You can enjoy offerings from the raw bar (oysters on the half shell, of course) and create your own Cajun-flavored wok, or stop by for the dim sum-style weekend brunch (if you can reserve a spot… in which case, don't miss the famous Federal buttermilk biscuits).