Born after its creator bought some conversation hearts, and then smoothly told an atlas "Page Me", Hometown's a collection of retooled city maps ranging from 5''x5'' to 16''x16''(all of which can also be slapped on an iPhone or laptop), including one of Miami outfitted with the aforementioned candy heart reading "I Love You". He's also got a damn cool typographic Florida print where all county names fit inside their own borders, even though there're like, a ton more Barnes & Nobles down here.
Recommended Video
Spinach and Artichoke Dip Pizza, the Ultimate Party Appetizer
Previous Venue
Next Venue
Venue Description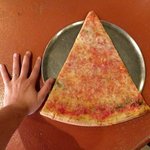 1. Pizza Bar Goes Downtown
228 SE 1st St, Miami, FL 33131
PB's brought its NY-style "biggest slices in South Beach" Downtown, where it's also slingin' rosemary wings, meatball subs, and a Genoa salami/ capicola/ ham/ provolone/ pepper-packed "Real Deal" Italian sandwich, basically what Snooki hopes to be smooshed in every night of the week. Gross.