There's nothing more delicious than cheese that didn't change its name to Gordon Pritchard after getting out of that dumpster, and that's exactly why Miami needed MLT: a just-opened counter-service joint on Washington with a long, open grill, which lets you craft your own Brotherly Love-steaks or grilled cheese, and works the beautiful dairy product into everything from waffles to sliders, as if the dimension-traveling fat guy with the beard needed any more dairy. While they've got a board full of suggested mash-ups, true creationists believe cheesesteaks came into being about 10000yrs ago, along with rhinos and everything else can build their own Philly by choosing rib eye or chicken; Whiz, American, provolone, or white cheddar truffle; and finally, toppings ranging from the standard onions, peppers, and 'shrooms, to far nobler fatteners like a fried egg, bacon, french fries, or even mac & cheese, because Mac & Me would mean it needs Skittles, too, and that's gross. Grilled cheese is built in much the same way on egg challah, sourdough, or whole wheat, and can see BBQ short ribs or albacore tuna salad added along with all the c-steak toppers. If you hate Jeremy Piven characters, opt instead for fried chicken biscuits w/ homemade maple gravy, bacon & cheddar waffles w/ maple syrup, and to wrap up your coronary, fried Oreos w/ vanilla dipping sauce, plus housemade Krispy Kreme bread pudding, all of which will turn you into [blank] the Tank.
Recommended Video
Mac & Cheese With Bell Pepper Bowls, Because Dishes Are the Worst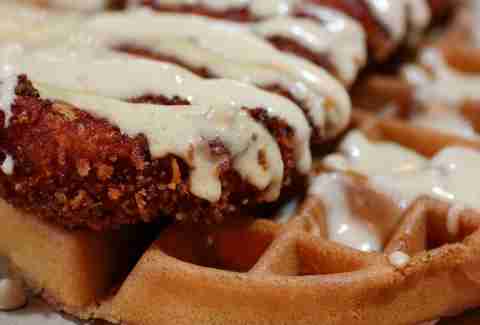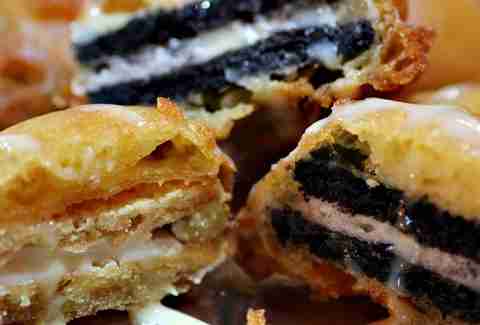 Previous Venue
Next Venue
Venue Description
1. MLT
1541 Washington Ave, Miami Beach, FL 33139
MLT provides counter-service on a long, open grill that lets you craft you very own cheesesteak or grilled cheese sandwich. The best locally homemade Philly cheesesteak can be found at MLT in Miami--prepared fresh with amoroso rolls, lean rib-eye steak, and the key ingredient--lots of Whiz.