Opening Monday and spearheaded by Top Chef-er Jeff McInnis (gigi, Norman's), comfort food-plating Yardbird Southern Table & Bar oozes down-homeness in a wood-/steel-beamed, barn-like space stocked with Mason jar lamps, a whiskey/bourbon-lined bar housing beer taps topped by old kitchen utensils, as well as high-tops dotted with Baby's breath, some of which they were bold enough to put in the corner.
The menu's more Southern than that football team who only seems to play Grambling, starting with small plates like a fried green tomato BLT with Snake River Farms pork belly and Tabasco glaze, Brunswick Stew packed with gator sausage, smoked rabbit, butter bean, and pickled okra, as well as a slow-braised short rib/ smoked bourbon jus meatloaf, which sounds intoxicated enough to finally do "that".
Recommended Video
Meat Flowers Are Here to Give You The Best Valentine's Day
There's also a lineup of "Supper Plates" like sweet tea-brined ribs soaked in housemade BBQ and pickled chilies, a baked apple-/smoky plantain puree-coated Berkshire pork chop, and two big 'ol pieces of their signature 27hr Bell & Evans fried chicken w/ citrus pepper watermelon, a homemade buttermilk biscuit, and cheddar & chive waffles, although it certainly doesn't vacillate on showing photo galleries of hot cheerleaders and people passed out in bathrooms.
Because people in the South drink more than sweet tea and Tequiza, they're shelving 49 bourbons from Bulleit to Holy Grail-ish Pappy Van Winkle 23yr, plus beers like Lagunitas Little Sumpin' Sumpin' Ale and Terrapin's Karma Brown IPA. And while it's just dinner at the moment, they'll be cooking up lunch in about a week, and two weeks later'll roll out their Gospel Sunday brunch, for which they'll have to take Baby out of the corner and let her go home, because she's Jewish.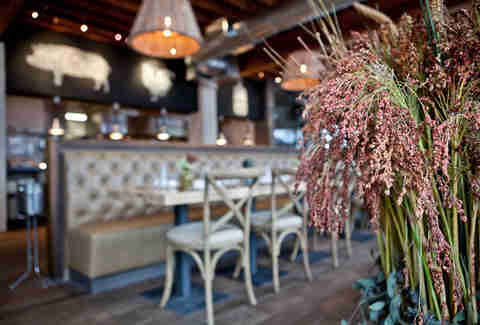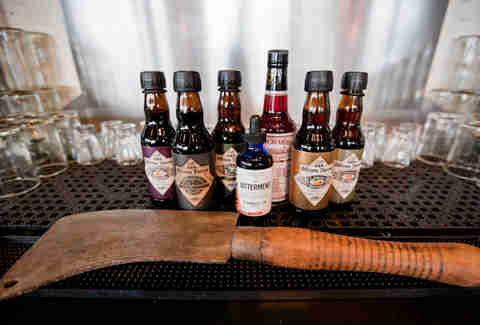 Previous Venue
Next Venue
Venue Description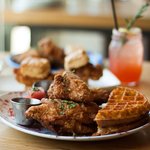 1. Yardbird Southern Table & Bar
1600 Lenox Ave, Miami Beach, FL 33139
Before Yardbird opened in 2011, Miami wasn't known for its Southern comfort cuisine, which somehow seemed odd for a city that's geographically part of the American south. All that changed when Top Chef finalist Jeff McInnis, along with restaurant vets Chris Romero and John Kunkel, opened Yardbird in Miami Beach and instantly made a name with their fried chicken, buttermilk biscuits, and watermelon salad. The menu is chock full of quintessential down-home foods, and the well-stocked bar doles out house cocktails like blackberry bourbon lemonade and Bloody Marys with bacon-infused bourbon.