You'll need at least that many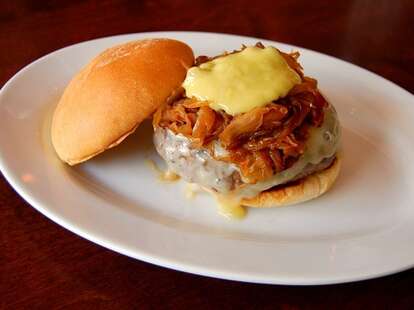 Some foods are inherently messier than others, from Sloppy Joes, to anything involving chili, although Andre Rison would claim getting Left Eye into the mix makes things even messier than that. Promising they won't burn your sneakers in a bathtub, eventually setting fire to your entire mansion: 5 Napkin Burger, opening Thursday.
Happy to endanger your health/shirt with burgers so intentionally and deliciously messy they're touted to require at least the number of linens in its name, 5 Napkin's a welcome NYC refugee in a "butcher shop-chic" space lined with giant chalkboard murals of cows, classy black-leather booths, and industrial exposed-filament bulbs dangling from the ceiling along with vintage scales and meat hooks, which're generally provided by Raekwon the Chef. The must-get's the original 5 Napkin, which takes 10oz of fresh ground chuck and aggressively covers it with rosemary aioli, caramelized onions, and melted gruyere, but they're serving a Lamb Kofta Burger w/ tahini, and the wasabi mayo-/ tempura fried onions-topped Ahi Tuna Burger, which's what Carrie called her bf in season 4 when he got super into omega-3 fatty acids. They've also got pastrami that's deep-fried with pickles, sauerkraut, and mustard oil; 5 Napkin-mayo-smothered lobster roll sliders; sushi rolls like the Southwestern Spicy Yellowtail with cilantro, chayote, jalapeno, and tobiko; plus sides like tater tots and onion rings crusted in cornmeal, which people from Iowa call breakfast, lunch, and dinner, plus brunch on the weekends. Oh, and heavier snacks.
For dranks, they're stocking 50 bottles of wine, 80 beers (e.g., Ipswich, Otter Creek Copper Ale, Allagash Belgian Dubbel), 40 bourbons including Pappy Van Winkle, as well as 10 signature cocktails like the Maker's/ brandied cherry juice/ vermouth/ orange zest Manhattan they call the Perfect 5, which's what Rison called Left Eye when she asked him to rate her out of 10, which, in hindsight, was probably not the greatest move.