Bearing the name of the tree that produces Brazil nuts (also what they called Terry Gilliam while he made that film), Juvia's a massive, purple-heavy, "vertical garden"-lined indoor/outdoor joint perched atop the penthouse level of 1111. Their open kitchen's plating Asian tapas like Japanese yellowtail hamachi and truffle oil-coated salmon nashi, plus bigger boys like milk-fed pork confit and Hawaiian blue prawns, in addition to an oyster-/king crab-/lobster-stocked "Cold Bar", or what DiCaprio says when his gf's searching for something around the house, but not really close.
Previous Venue
Next Venue
Venue Description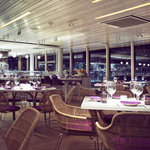 1. Juvia
1111 Lincoln Rd, Miami Beach , FL (South Beach)
Perched atop the penthouse level of 1111, Juvia offers eclectic small plates, panoramic South-Beach views, and an enormous, vertical garden. Serving a trifecta of French, Japanese and Peruvian cuisines, the rooftop spot is known for its array of creative dishes and craft cocktails. The menu features everything from lobster-avocado ceviche and truffle oil-coated salmon nash, to larger entrees like milk-fed pork confit and sushi grade tuna steak. Patrons sit on an array of purple couches and white wicker chairs, hundreds of feet from the city below, while sipping on house cocktails like the vodka-sake-vanilla concoction Juvia calls "Perfect Yuzu." For chilly nights, the ultra-modern eatery is equipped with a glass-encased indoor space, where guests are welcome to enjoy (sheltered) food and drink without sacrificing the 360 degree Miami views.