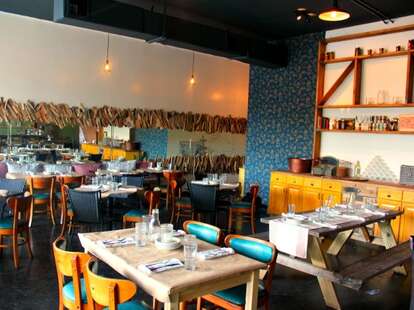 If Phuc Yea! made you say just that, then The Federal -- the new, permanent joint from the same peeps -- will make you say...well, hopefully not "The Federal!", because that wouldn't make any sense. The overwhelmingly homey spot on Biscayne is soft opening tomorrow, and's basically a cross between a country attic and a backyard, if that backyard had potato sack-lined booths, picnic tables, a gazebo-style bar, and a massive mirror lined with reclaimed wood. Oh, and a wall plastered with hot-girl "massage" ads, which also come in pretty handy as decor
The just-as-down-home menu kicks off with "Bits" like honey-brushed Fiscalini Farms Cheddar Biskits and Buffalo "Pig Wings" (since pigs don't fly yet, they're actually delicious pig hind shank), plus small plates including "Jar-O-Duck" made of slow-cooked Hudson Valley bird, charred fluff, and candied sweet potato, which sounds significantly better than sweet potatoed candy.
Next, move on to "Big'Uns" like a bacon-onion marmalade/duck butter-covered porterhouse, roasted Cornish game hen stuffed w/ cornbread-fennel sausage, and a pretzel-bunned lamb burger w/ horseradish mustard, Dante sheep's milk cheese, and chow-chow relish, also a favorite activity of very specific-minded dog show fans
They'll soon be dropping a cocktail list, but for now are making you feel more attractive via vino, plus 15 bottled and a few tapped suds including Woodchuck Granny Smith, Dale's Pale Ale, Stone Arrogant Bastard, and Left Hand Milk Stout, which was clearly inspired by some massage ads itself. Phuc Yea!