Gentlemen, start your stomachs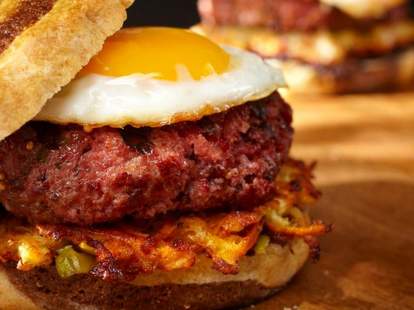 Remember that extremely plot-driven MTV series The Grind, which actually had no plot, and was basically just Eric Nies watching a bunch of half-naked peeps dance? Well, this is nothing like that. But damn, great show. This Grind is the inaugural version of 305's premier beef-battle, in which ~30 chef-prepped burgers specifically created for the competition will face off, while you eat them all and vote on a winner. The deal
Patty-slingers like Burger & Beer Joint, Lokal, Shake Shack, Frita Man, and Charm City'll be stacking beef with everything from short ribs and pork belly bacon, to guava and corned beef hash, which hopefully no one tries to Return To Paradise with.
A panel of judges (damn right one of them's the Burger Beast!) will rate these suckers in categories like "Fan Favorite", "Best Overall", and "Best Alternative", the winner of which will presumably induce Nirvana.
Do you get to eat a slider-sized version of every single burger that's made? Oh yes. Do you get unlimited beer, wine, and booze? Absolutely. Are you going to consume anything other than wheatgrass shots the next day? No.
Oh, you think you know how to make burgers, too, huh? Who're you, Joe E. Tata, who played Nat on 90210? If you are, incredible, and thanks for reading. If you're not, you can still enter the Backyard Burger competition for "average joes", by submitting a recipe/photo of your creation, with the top entrant getting to cook alongside the pros.
Something you should do: email ThrillistMIA@gmail.com with a haiku about burgers, because we're going to pick our favorite and give its author a pair of VIP tickets complete with a limo ride there, which is just about the Niesest way to get anywhere.