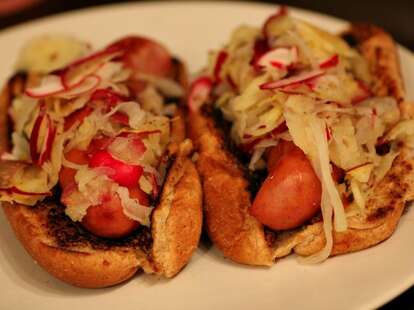 When everyone comes over this Sunday to see if Icebox makes her triumphant return to help Rick Moranis beat the Giants to yet another huge victory, you'd better not be laying out a pocketful of old Werther's Originals, which is why we tapped some of Miami's most scintillating chefs to create some dead-simple snack recipes.
Game Day Ribs Jeff McInnis, Yardbird Southern Table & Bar From Jeff "Wait, wasn't that dude on Top Chef? Also, didn't he play for UNC with Dante Calabria?" McInnis come these simple, fall-off-the-bone ribs made with an an ungodly amount of gooey BBQ sauce and chicken stock.
These are deliciously awesome. Click here right now to get slathering.
Garlic Shrimp KebabsSimon Stojanovic, Altamare Altamare's seafood expert put together a kebab recipe that smothers shrimp in garlic, peppers, and lime before getting grilled, with results so delicious, they'd make Bill Belichick wildly exclaim "[unintelligible]". This guy knows what he's doing, and dumbed it down so you can pretend you do too. Get on it.
Charred Kobe Dogs with Apple-Radish Sauerkraut and Fried Mustard Jamie DeRosa, Tudor House You'll cover dogs with a sweet/salty kraut after frying up mustard on toasted buns, as per the directions of the exec chef at the newly appointed Iron Chef's resto, who considers himself a "serious football fan", and therefore has obviously spent considerable time on stadium sidelines trying to cool off Vince Wilfork's giant sweaty face.
The game will be a mere afterthought after eating these delicious dogs, not that Miami cares anyway. Get the recipe!