Where the steak sandwiches (and wine) flow like wine.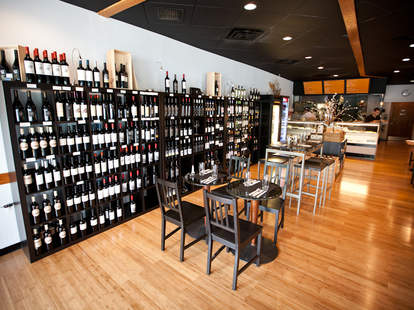 Webster's Dictionary defines catharsis as "elimination of a complex by bringing it to consciousness". Argentinian transplant Hernan Stutzer defines it as "the name of my first restaurant, which was successful enough for me to open Del Sur": a quaint, homey spot packed with shelves of wine and wooden tables just waiting to get covered with simple, flavorful, "honest food"
Whether you opt to eat-in or grab counter service to-go, copious deliciousness includes aged prosciutto de parma-topped burrata, lamb ossobuco w/ creamy polenta, pastas including homemade ricotta & spinach-stuffed cannelloni, as well as sandos like the Lomito w/ a grilled filet, two fried eggs, parmacotto ham, havarti, and lemon mayo, also what Marc Gasol says when OJ's like, "what's your third favorite kind of citrus fruit?
Because all those bottles aren't going to drink themselves, pick from over 50 labels, all of which can be awesomely purchased sans markup and popped on the spot for just $5. In addition Sundays bring $1 mimosas, which Webster's Dictionary defines as "sweet, dude".