Ok, take a pizza. Now, put it in an aquarium. Now, take it out of the aquarium and realize that your pizza is totally disgusting and ruined, but that you just came up with a pretty sweet name: Pizzarium. Unfortunately for you there's already a place named that, a brand spankin' Roman-style square-pie joint that's plopped itself near Flagler & 1st to get sauce all over people's suits amongst exposed brick & retro Italian prints. The Roma-born chef/co-owner claims the secret to his classic pies is the super-light dough, which's high on wheat and soy flours imported from Italy, low on sugar and yeast, and is left to rise for 96 hours -- take that, JESUS. Said dough's then concocted into 25+ different kinds of "healthy" pizza (they'll be rotating 300 total!), available by the slice or tray, like the Carbonara (mozz, pancetta, black pepper, parmesan, egg), the potato/ rosemary/ Italian sausage Patate e Salsiccia, and the Zucca Gialla with smoked scamorza, pancetta, and pumpkin cream, which is always a crowd favorite at Wu-Tang's Halloween show. For sips, they've got those retro aluminum soda bottles, Nespresso coffee, and a few brews including Stella, Peroni (duh!), Leffe, and Sam Adams, who foolishly ruined all that tea by putting it in that massive aquarium called the Boston Harbor.
Recommended Video
This Cheesesteak Is 100% Vegan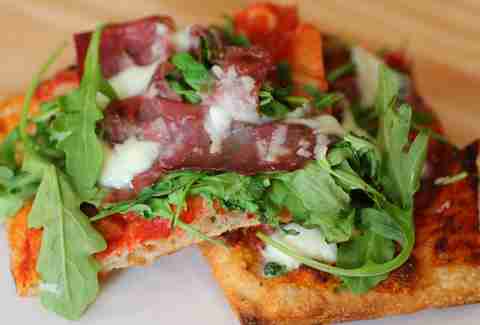 Previous Venue
Next Venue
Venue Description
1. Pizzarium
69 E Flagler St, Miami, FL 33131
A Roman-style square-pie joint that claims the secret to their healthier pizzas is the super-light dough, forming the base for such wonders as the Zucca Gialla, with smoked scamorza, pancetta, and pumpkin cream. They carry a few light brews, but the real focus is the food.