Bazaar & Katsuya: they're finally here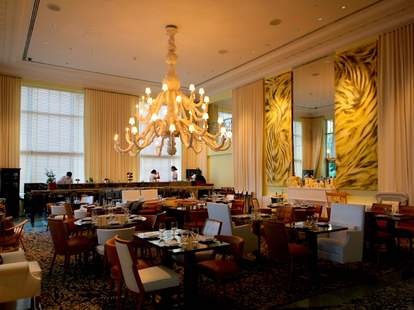 The SLS Hotel is far more attractive since it turned from a giant wall that said "Coming Soon" into a Philippe Starck-designed masterpiece. You, on the other hand, will be far less attractive after taking down a plethora of real-deal eats and cocktails in its two baller restaurants
The Bazaar: Latin-inspired Bazaar's more high-energy "Rojo" dining room's adorned with black leather communal tables and a lucha libre mask-wearing bull, while the more-subdued "Blanca" room rocks a vintage-looking bar that's actually the cooking area, and an enormous seashell chandelier that she sells by the seashore... for probably like a billion dollars
James Beard-winning José Andrés crafts Cuban coffee-rubbed churrasco, Iberico-stuffed Cubanos, plus a frozen blue cheese/lemon marmalade sando. Also great: a tableside-made Cuba Libre, and a Fishbowl Margarita they claim is "classier than you might think", unless you thought it was classier than they thought you might think it is. Whatever, it's somewhat classy.
Katsuya: Master sushi chef Katsuya Uechi's in charge of a space that's 99% white, minus a looming portrait of Eckleburgian eyes glaring from behind the bar. Menu-wise, it's all pizza! sushi like baked crab hand rolls, plus plates of kiwi scallops, ginger scallion lamb chops, and foie-topped Kobe
Keep things going upstairs in Katsuya's Dragon Lounge, in which you can stare at illuminated red lips aplenty while downing sakes or cocktails like the Burning Mandarin w/ vodka & serrano chile, or the traditional vodka/ yuzu/ ginger Dragon, which will make pretty much anything look more attractive.