30+ trucks, 30+ insane dogs, one angioplasty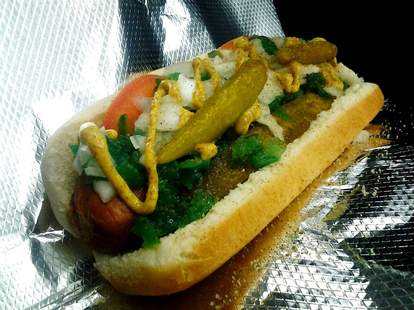 While the classic hot dog with sauerkraut and mustard will always have its place in the American Summer, that place is certainly not at the first-ever Hot Dog Fest: a Burger Beast-produced afternoon of craft brews (Blue Point, Dale's), live jams (Mad World Orchestra!), and a dog eat-off to see which of 10 contestants can down 10 first. But you likely won't be entering that if you have even one of the below super-dogs, some of the finest examples produced by 30+ food trucks hellbent on killing you with kindness, and hot dogs:
Porkalicious (Porky): Proper Sausage's blue cheese & fig sausage, crispy applewood-smoked bacon, remoulade, Italian roll, pepper relish, or what Salt says at the dinner table when she wants that damn relish.
Samba Baby (Rio Samba Grill): Not actually an infant who wears stylish indoor soccer shoes. Brazilian smoked sausage, sauteed onions/peppers, "Mama's" slow-roasted pulled pork, pineapple sauce
Bacon Chipotle Dog (The Rolling Stove): Applewood-smoked bacon-wrapped beef dog (deep-fried!), caramelized onions, jalapeno jelly, homemade chipotle sauce, cheddar
Philly Dog (OverLoad): National Deli dog, rib eye, grilled onions, sweet peppers, mushrooms, melted provolone, hoagie, tendency to throw batteries at Santa Claus at sporting events
I Dream of Weenie (Mr. Good Stuff): Cheddar-stuffed black Angus dog, tomato-onion reduction, potato stix, homemade sauces, and bacon, which will always have its place in your arteries after spending an afternoon at this thing.