Andrew Zimmern's Rhubarb Crumb Cake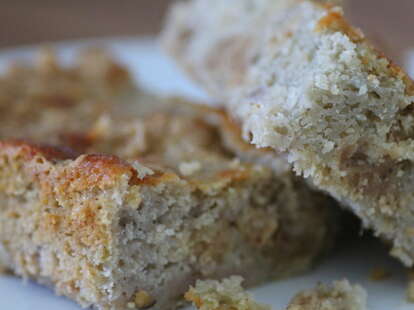 Got an hour, an oven, and a Mom? Whoa, whoa -- stop bragging there, high-roller, and prepare to make this killer, three-step rhubarb crumb cake from The Man, The Myth, The Guy Who's Taking a Break from Eating Grubs to Help You Win Back Mom's Love: Andrew Zimmern.
1: Prep Some 'Barb Melt butter in a large pan on medium-high, then add sugar, lemon juice, and 1.5lbs of chopped rhubarb. Sauté until you've cooked off the "jammy" liquid, question what exactly "jammy" means, and spill onto a plate to cool.
2: Streusel-fy Streusel's apparently easier to make than spell: just pour flour, brown sugar, butter, and crushed toasted almonds & pecans into a bowl, then combine with your fingertips and set aside.
3: Bake A Cake Butter and flour a 9-inch brownie pan and preheat the oven to 350. Create a batter consisting of buttermilk and a bunch of other stuff you can read about by clicking below, then fold in the rhubarb, place it all in the brownie pan and spread your streusel on top. Bake for 45mins, or until "a toothpick withdraws cleanly from the cake", homemaker Excalibur-style, and you've brought this beauty to life. Commence bragging.