Small plates for big appetites downtown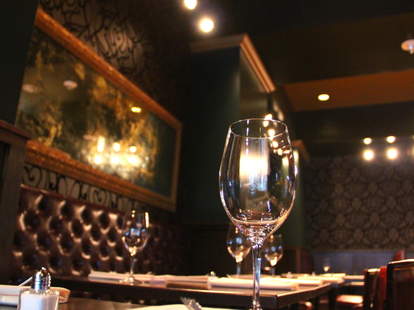 Proving she's actually the boss: the chef/owner of Mona, who's now opening her own spot after paying dues at NYC's Aquavit & L'Atelier de Joel Robuchon, and, more recently, Corner Table. The chef-driven 100-seater's serving American small plates amidst classic dark woods, tufted leather booths, and splashes of ornate wallpaper, which should be the only thing getting plastered here -- it's a classy place! Use discretion while enjoying:
The Food: An open kitchen (with counter seating) is cooking localness ranging from an elk rib eye with fries & hollandaise, to a chicken liver pate sammie with bleu cheese and rhubarb compote, to chicken & waffles, all of which can be bolstered with house-cured bacon, so it must have been suffering from a bad case of not having anything charming to watch weekdays at 7p.
The Drink: A regal island bar wants desperately to wet your whistle with the uber-local Big Ginger (MinneSoda ginger ale and 2 Gingers Irish Whiskey), food-focused wines, and eight craft taps like Rush River Amber, Furthermore Fatty Boombalatty©, and Victory Pils, or what Sammy Sosa longingly calls steroids.
And, a month from now, capacity'll skyrocket as they open a courtyard-esque patio that's tucked away from the bustle of the street, perfect for those looking to sitcom-ly.