Posh Mexican spot is off the chain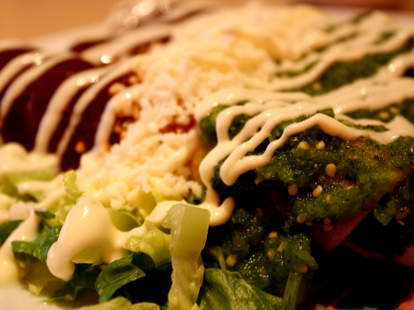 Mexican chains often seem to get a bad name, though it's not really their fault that "Senor Frog's" was already taken. Change everything you ever thought about Mexican chain restaurants -- yes, including the dudes who spray tequila in your mouth while you conga -- at Rosa Mexicana.
The Mpls iteration of the casually upscale Mexican grubbery, Rosa is set off with waterfall walls encasing the bar area, and a liquid centerpiece with suspended cliff-diving figures, all backing the chain's boast that their first non-coastal location is "not the Mexican you expect", really only a letdown if you expected Salma Hayek.
Yearning for some hot mortar on pestle action? Then order the Guacamole en Molcajete prepared tableside before hopping on beef enchiladas topped with Veracruz mole, "crispy marinated" pork shank with chipotle-creamed spinach, and whole red snapper marinated in a mix of achiote, orange, and garlic.
Rosa's also got plenty to help you drink away the shame of your weird pestle fetish, including a strong list of Mexican suds, beer cocktails (Micheladas) that mix brews with things like sangrita and tequila, and a menu with the better part of two pages devoted solely to tequila, so exactly two more than history will devote to Tila.
Post nosh, they pour dessert cocktails like the creamsicle-esque Luz Naranja made with tangerine vodka, or you can go straight cognac-style with pours like Hennesy VS, a classier way than banging a tequila popper off a fireman's helmet to get the place hoppin'.