The nattiest place in town just got $1.8M nattier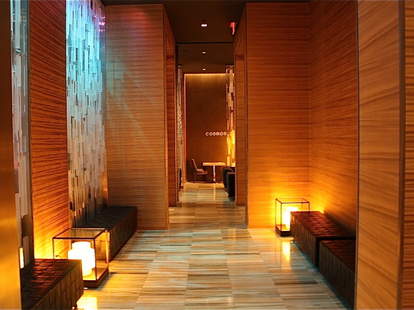 Million-dollar facelifts can result in some pretty weird appearances: just look at Joan Rivers, ideally through one of those eclipse-viewing boxes with a pinhole in it. Apparently they make lounges look way better though, as evidenced by the new beauty of Graves 601 and its Cosmos restaurant.
The costly revamp touches the entire hotel and, like Rivers, assails multiple senses, including:
Sight: On the first floor, the entryway concierge stand's been nixed in favor of iron lanterns and a mega-long leather couch, and the adjacent room's now home to the massively mirrored front desk, whose former 4th-floor home's been turned into a modern-furnished lounge. In Cosmos, there's new furniture, fixtures and chandeliers, heavy curtains separating the dining area from the bar, and a private lounge that used to be the coat check room, which works out ok, as Cosmos is now so cool you'll need to keep your jacket on. Ayyy!!
Taste: Cosmos has been re-cheffed, and ditched the old menu (essentially wholesale) in favor of upscale noshes like seared foie gras and Scottish salmon (they're also in the throes of a cocktail overhaul by Alchemy's Toby Maloney). Downstairs at first-floor cocktailery Bradstreet, they've launched an ever-expanding menu of mini sammies like chicken & waffles, Connecticut lobster rolls, and a short rib Philly that, unlike those horses, no one will protest you putting down.
Sound: Because what's $65K, they've also thrown a grip at new Cosmos and Bradstreet sound systems that're meant to optimize the quality of the DJ-spun tuneage without totally eclipsing conversation.