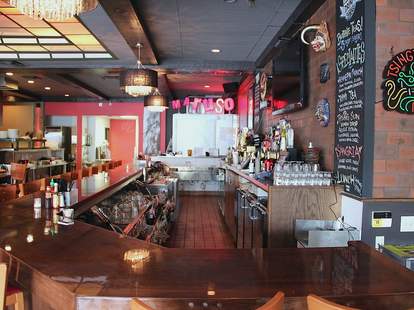 Does "street food" served in a restaurant cease to be street food? Ponder that for a while... or better yet, pose it to thoughtful-looking people in line, then cut them while they're pondering and get into Maruso Street Food & Bar first
Just opening in the former Hennepin Ave To Soho digs, Maruso slings locally sourced, global street eats in a brick-accented space where an open kitchen borders a dining counter and 20ft bar, and is named after a century-old Taiwanese soy sauce that's "been renamed and rebranded for the American audience" (though a better name would've been "ranch dressing"). "Snacks" include wasabi deviled eggs topped w/ bacon or a variety of arepas; a "bowls" section counts beef bulgogi and baby back ribs; and street-ready "handhelds" range from a banh mi with pickled daikon to a $3 hot dog you can top with anything from Thai basil to kimchi. Since Lipton hasn't yet released "whiskey chamomile", booze with alcoholic bubble teas (e.g. green tea w/ vodka and amaretto) instead, or hit a full bar with 11 taps, eight tallboys, and 14 bottles (ranging from Arrogant Bastard to Bohemia), plus cocktails like the ginger/Scotch/pineapple juice "Penicillin"
Oh, and they've also got a 45-seat street-bordering sidewalk cafe, meaning you can finally hang out on the street without fear of being cut.