Everything you can imagine from a wood-burning oven... plus sake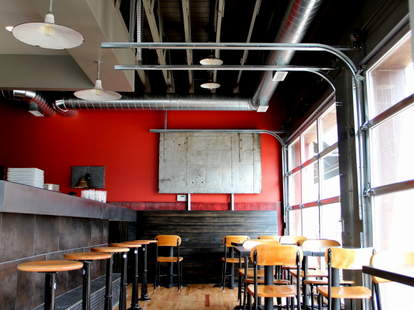 If you're wholly committing to using only a wood-burning oven, you better have the skills. Also, the oven, or things would become difficult fast. For a new Bryn Mawr joint that nobly refuses to dishonor itself by using any other cooking methods or apparati: Sparks.
The latest and greatest from the chef/ owner of Al Vento and Rinata, Sparks' airy interior (glass garage doors & windows, open kitchen) will oxygenate a menu cooked entirely in their wood-burning oven and claiming a heavy Mediterranean influence, so hopefully none of the ingredients come from Cannes. Huge wusses that like vegetables can start with oven-fired truffle asparagus, before they're laughed off the table by the real men feasting on suckling pigs, whole or half roasted chickens, baby back ribs, and lamb sliders that highlight the selection of "pocket sandwiches", majorly satisfying your hunger whilst minimally satisfying Hot Pockets' copyright infringement standards! Their surprisingly robust line of adult libations includes sake mojitos and margaritas, 10 taps like Lake Harriet Divine Oculust & Rush River Lost Arrow Porter, and globally sourced wines including mega-cheap pours of Cai a Noite Vinho Verde for just five bucks, to which an entire bottle of Chuck says "not impressed".
And while Sparks' dining room seats only an intimate 35, in the coming warmer months, they'll be opening a sun-splashed, 35-seat patio, meaning you can go there and bake, which, to be fair, they've insisted is the move all along.