Cafe Maude at Loring Park is the self-described cooler, younger bro of the SoMi craft food/ cocktail staple, and even though cool people don't generally describe themselves as such, it lives up to the billing with a reworked menu, a focus on live music, and a totally Maude-ified space (rich red fabrics, dark woods, elaborate Turkish light fixtures) in the former home of Nick & Eddie

Staples like their famed Egg and Spinach and fancy burger (though these are coal-, not wood-fired) will be available, but you really ought to check out new nosh like fried quail with pancetta & garbanzo crema, shrimp-lobster terrine, black cod fish and chips (con gnocchi and English peas), and a hearty (succotash, pudding, popped haloumi, sunflower, bacon emulsion) Fischer Family Farms pork chop, also one of the most devastating techniques in all of farmhouse martial arts

The bar program's run by the same crew as the original, so it's got a similar classic cocktail bent with some carryover drinks plus newbies like the Carnival Punch (Boca Loca cochacha, Kronan Swedish Punsch, cassis, absinthe, lime), but there's also double the wine, double the taps (seven, from Lucid Dyno to Abita Amber), and nine more canned & bottled beers, including McNeill's Sunshine Ale and Great Lakes Eliot Ness, all of which will leave you feeling cooler, despite being totally unable to intelligibly talk about it.
Previous Venue
Next Venue
Venue Description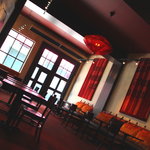 1. Cafe Maude At Loring
1612 Harmon Pl, Minneapolis, MN 55403
Cafe Maude honors the spirit of "civilized leisure and civic responsibility" in the spot previously occupied by Nick & Eddie, serving up coal-fire staples and craft cocktails in an ambience flush with live music and chic decor.