French can make things sound fancier than they are: garcon just means "boy", while menage a trois actually means "household of three" -- so right there, the fact that you enjoyed a menage a trois with two garcons at camp that one year isn't actually a big deal. For a Mpls joint that's really just a "small restaurant serving beer and wine as well as food": The Harriet Brasserie

Now open breakfast through lunch (they're waiting on a liquor license to clear before serving dinner), Linden Hills' "slow food" cafe relaxes a former firehouse with a white paneled ceiling and French doors opening onto a large patio, perfect for enjoying cuisine from a chef who grows all the produce himself. Start your day with crab benedict oozing roasted poblano hollandaise, or crawfish & grits with andouille, then go to the gym for an hour, before returning for grass-fed burgers with cheddar, bacon, and truffle aioli, octopus with lemon and ginger, and a jalapeno/shallot oil egg bison tartare, not to be confused with the specialty of Great Plains veterinary dentists. Once they're licensed, things'll get French with Rosés (including a Chateau de Campuget Syrah/ Grenache!), Folio Prosecco, and reds such as an Andeluna Malbec; plus a small-yet-mighty beer stable rocking Tilburg's Dutch Brown and the deliciously redundant Unibroue Terrible

For now though, you'll have to medicate with haute caffeination including drip, cappuccino, and espresso, so in lieu of sounding fancy, you'll at least be able to sound antsy.
Recommended Video
Winter Starbucks Beverages Around The World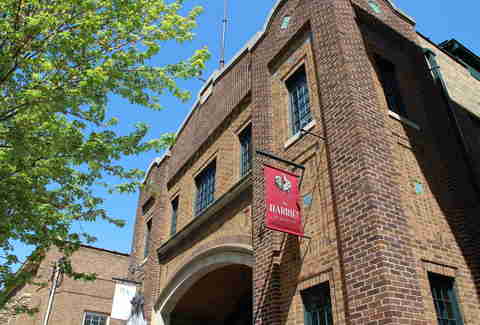 Previous Venue
Next Venue
Venue Description
1. The Harriet Brasserie
2724 W 43rd St, Minneapolis, MN 55410
If you've ever wanted to dine on American cuisine with Brazilian and French influences, made by a chef who grows all of his own produce, while you're in in a historic firehouse in the heart of Linden Hills, it's a good bet the Harriet Brasserie is your only option.