Don't worry about being whipped with a riding crop at Gray House, because the restaurant's named for Ian Gray, not Christian, and he's a chef, not... professional equestrian.... or whatever that guy in the book was. The chef's a first-timer (so again, not Christian), who's coming out swinging with a sleek, brushed steel bar and literal splashes of gray in the space that formerly housed Risotto, and now serves up: Seasonal Foodstuffs: Smaller plates like tuna tartare (w/ lemongrass vinaigrette) and "tortelle" (ham hock, figs, port reduction, bleu cheese butter) prep the palate for bigger basics like strip steak in balsamic reduction, or, accompanied by roasted veggies, "Pressed Chicken", also what Arnold calls guys who lack "the guts to go on and just say they'll go through the pain no matter what happens". Them Drinks: What the bar lacks in hard stuff, it makes up for with well-curated reds, whites, roses, and sparklings, as well as an eight-strong, Midwest-bred selection of deep-cut crafts from Lucid, Flat Earth, Great River, Epic, and Dave's BrewFarm, which unlike that ever-present & ever-pervy 50 Shades guy, you don't see cropping up everywhere.
Recommended Video
Potato Skin-Breaded Queso Balls Will Make All Other Apps Obsolete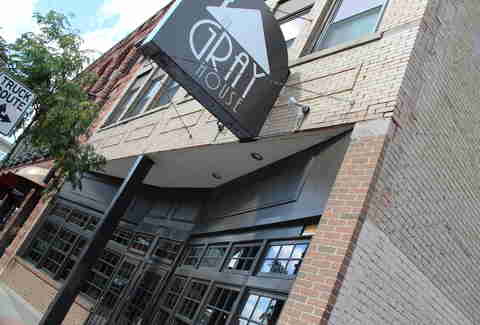 Previous Venue
Next Venue
Venue Description
1. The Gray House
610 W Lake St, Minneapolis, MN 55408
You'll be pleased to know that the Gray House is named after its chef, Ian Gray, and not after the color of the food, its taste or the ambiance. Apt descriptions for those would be vibrant, fresh and comfortable, respectively.