Malabar is just some narrow strip of tropical paradise stretching along the southwestern coast of India. But, Malabari? That's a West Bank Indian eatery tasty enough to ensure you never put on a bathing suit and actually go to a tropical paradise. Malabari's run by a duo of native....Malabarians looking to be the first to serve The Twin Cities their region's "secret recipes from antiquity", which actually skew more Thai than traditional Indian, and provide the only real color in their cozy, minimalist, counter-service nook. For starters, there're beef and lamb samosas, a bounty of curries, including tapioca ("kappa") over spicy fish cooked with red chillies/grated coconut, and the coriander-heavy Malabar Chicken. They've also got mussels, prawns, and crab seasoned with a coconut-spice blend, then fried and plated on rice; deep-fried chicken ("poricha kozhi"); fermented crepes made from rice batter and black lentils ("doshas") stuffed with masala, beef, chicken, or shrimp (served w/ coconut and tomato chutney), and minced fish cooked with grated coconut called "meen peera", so don't ever say they don't cook up a meen minced fish! Seriously, don't ever say that. And apparently Malabarian's are extremely picky about their rice, because each of these dishes can be accompanied by one of five choices, including coconut-flavored, cumin-based jeera, and one that's mixed with clarified butter called "ghee", apparently big in Indian cuisine, as opposed to you, just big on Indian cuisine.
Recommended Video
Making Thai Chicken Ramen Is the Best Way to Avoid a Bland Dinner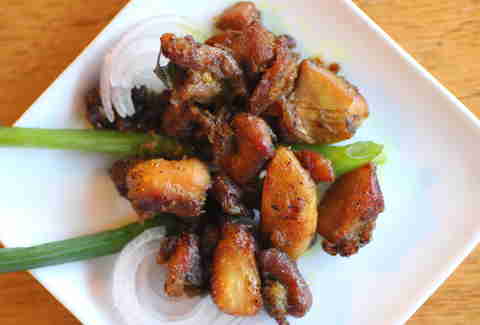 Previous Venue
Next Venue
Venue Description
1. Malabari
414 1/2 Cedar Ave S, Minneapolis, MN 55454
This unique West Bank resto prepares a variety of Malabarian dishes that walk the line between traditional Indian and Thai food, proving that a fusion can be its own region, and not just a trendy menu style in the US.