Don't let your T-day leftovers grow spores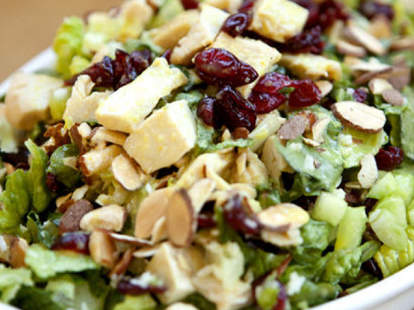 Ensure that people at your Turkey Day table next year won't be able to boringly list "health" as what they're thankful for by continuously serving them these crazy leftover concoctions, dreamt up by some rad Minneapolitan chefs.
Matty O'Reilly's Turkey TacosOwner, Aster Cafe The dude behind the Aster suggests a build-your-own turkey taco bar with fixins like squash, corn, yams, and/or whatever else you've got 'illin, plus a salsa spiked with beans and cranberries that "came to him in a dream" -- if you get nervous when making it, just pretend you can see everyone else's taco.
See how O'Reilly would align his ultimate taco bar, here
Alex Chase's Stuffing Fried RiceExecutive Chef, Masu Sushi and Robata Chase would have you stir-fry day-old rice with stuffing, diced ham, scrambled eggs, and soy & fish sauces, assuming that after your big Thanksgiving meal, you even feel up to woking. Don't be intimidated by the fish sauce, dude, the actual recipe's not that complex
Mike DeCamp's Turkey & Mixed Nut Salad w/ Cranberry VinaigretteChef de Cuisine, La Belle Vie This salad's got it all, fatness included: shredded turkey, simple croutons made from stuffing, and dressing from canned cranberries. Finally learn how to make salad dressing using surprisingly few ingredients
Destiny Buron's I Miss Cheese Thanksgiving Leftover PieOwner, Home Street Home Truck Buron's delightfully easy post-Turkey Day killer essentially mixes two cans of cream of celery soup with everything else you've got left over and a cup & a half of cheddar, producing the cheesiest thing your table's seen since...last night, when every single person around it said they were thankful for health.
Follow her steps to make the heavy cream-based soup component, or use some canned ish if you're lazy