KFC + Taco Bell + Pizza Hut = The Yum!onster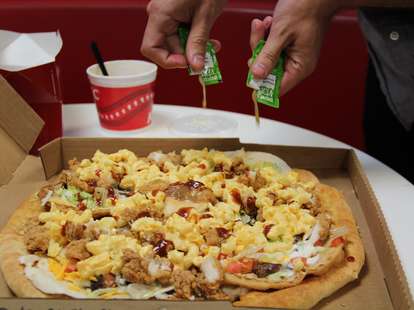 Thrillist
Thrillist
Once upon a time, there was a pop country singer who sang one of the most complex, existential questions known to man: "Who says you can't have it all?" And while his name is not important, because he is a pop country singer, his robust, flesh-colored mustache demanded an answer. So after staring for hours into the inky abyss of this philosophical conundrum, I decided I'd brave the only place on earth where one can have everything they desire: the combination Pizza Hut/KFC/Taco Bell. And there was born the Yum!onster, an unholy amalgamation of stuffed crust pizza, mashed potatoes, gravy, tacos, Chalupas, chicken fingers, mac & cheese, hot sauce, biscuit, and desperation.
Although there were myriad options to adorn my pie with... like Doritos Locos Tacos™ or a chicken pot pie from KFC, I needed to maintain some semblance of self-control and stick to my original plan: keep it simple. And don't die of sudden onset arterial plaque buildup.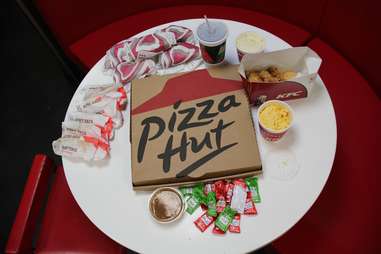 Here's the spread, ladies and gentlemen:
• One large Pizza Hut pepperoni pizza
• One large order of KFC mac n cheese
• One KFC biscuit (with gravy, duh)
• One order of KFC mashed potatoes
• 6 KFC fried chicken strips
• 4 Taco Bell grilled steak soft tacos
• 3 Taco Bell supreme steak chalupas
• A bunch of sauce (add to taste)
This pizza had no idea about the deplorable, depraved things that were about to happen to it.
First, the potatoes. Potatoes are pretty boring unless they're fried, or baked, or thinly sliced and covered in cheese, or... fine, potatoes are wonderful. But never more so than when mashed with loads of processed butter and laid atop a pepperoni pizza.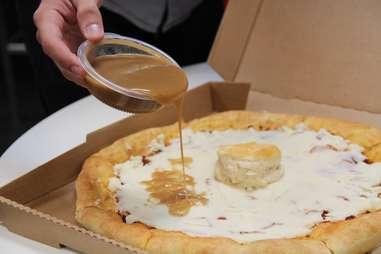 Creating a base. A nice, even schmear creates the perfect foundation for future ingredients, and allows you to use satisfying words like "schmear." I'm not sure why I also got a biscuit. Perhaps, in retrospect, I would have not ordered this biscuit.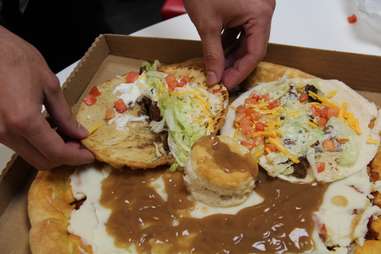 The tacos and chalupas. At this point, I'm starting to get nervous. I begin to question every significant life choice I've ever made that brought me to this moment. Should I have married Jessica? Maybe I should have been a CPA. Was Bill and Ted's adventure even that excellent? I mean, it was pretty wild... but did they actually get better like Rufus promised?!
I push those negative thoughts aside, and remain steadfast in my mission.
Now I'm putting the fried chicken on this Frankenpizza. I don't know who I am anymore. This pizza doesn't know who it is anymore. Everyone in this Penn Station KFC/ Taco Bell/ Pizza Hut is glaring at me with increasing concern. I think someone is calling 911.
I mean... why not? At this point, life is without meaning, purpose, or value. I glob on the mac n cheese. I call my mother to tell her I love her. I text my ex... a picture of the pizza and say "Doing just fine without you!"
A small crowd has gathered.
I slowly drizzle the miscellaneous sauces over the pizza, making sure that each bite will be gifted a taste. I've spent so long assembling this pizza, I feel like Dr. Frankenstein. This pizza is not a monster. It's a beautiful, misunderstood creation. Still, the townspeople stare on. Sporks in hand ready to strike at any moment.
I take a bite. A big, gigantic, gross bite. I chew. Swallow. Take another bite. Holy shit, this isn't that bad. It's actually... kind of... good? The flavors of the mac and cheese mesh with the chicken fingers and mashed potatoes. The cheese from the pizza envelopes the outer shell of the tacos and chalupas. I look around the room. People are clapping. I think I see a single tear fall from a man holding a novelty American flag. I throw one fist up in the air, like Freddie Mercury hitting an impossibly high note and close the box.
I rode the train back to my office, Yum!onster in tow. When I walk through the door, I'm greeted by my coworkers. Their eyes are immediately directed towards the box. "Open it up!" they exclaim, wanting to bear witness to the savory sacrilege that hath been committed. I do. And they dig in.
"This is gross," says a colleague after taking two bites and promptly disposing of the rest.
I nod and reply that it's certainly not for everyone. Perhaps I created a monster after all. Something heinous that was never meant to see the light of day. Something people were never meant to understand or love. But maybe... just maybe I created something too delicious for this world. A dish decidedly ahead of its time... a pizza the average palate wasn't ready to comprehend.
Actually, it was kinda gross. And expensive. Excuse me, I need to go check my blood pressure.