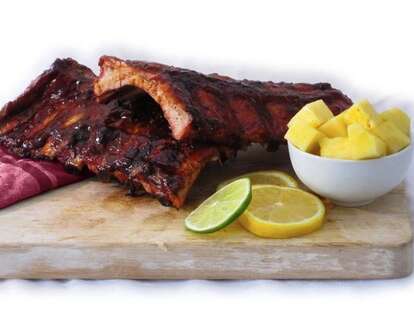 Cross-country family trips may seem like a good idea, but at some point they usually devolve into bickering, which is understandable considering grandma's in no shape to run 12 miles while booming her face off. Eat the fruit of far more successful (and less drug-addled) family vacations, with Pig of the Month.
Recently launched by an Ohio clan whose idea of a good vacay was to crisscross America in search of killer 'cue, POTM offers up ready-to-heat low 'n slow meats inspired by the flavors they encountered during annual hunts for incredible "hole-in-the-wall" joints, which became harder and harder to squeeze into as the trips went on. Loaded up with appropriate sauces, sides, and more, proteinaceous packages include everything from pounds of pulled pork to Texas beef ribs, but to give you a flavor for their...flavors, check out this breakdown of some of their baby back styles:
Key West -- Inspired by a dinner cooked up by an altruistic stranger who treated a family member's jellyfish sting in her beach shack, these ribs are rubbed with coriander, cumin, and coffee, slathered with a tropical-and-citrus-fruit BBQ sauce, and smoked over Cherry wood, which burns lower and slower when it's (A.C.) green.
Miss Scarlet's Carolina Red -- Smoked with Memphis hickory, rubbed with a cayenne-chili mix, and coated with a tangy "party in your mouth" sauce inspired by SC spots including BBQ Barn and Lone Star, these were deemed perfected when their dog wouldn't stop stealing them off the table, as the greatest arbiters of taste clearly eat their own poop. "Get Lai'd" Hawaiian -- Dusted with cinnamon, garlic, and more, the Lai'd's are smoked with special pecan-flavored wood, then doused in a teriyaki/brown sugar/pineapple/ ginger sauce whose roots lie in a roast they attended on Maui, an event that typically devolves into bickering, and calling people grandmas.