Housed in the Kinfolk Studio space, this new Scandinavian resto is from a team including a partner from Atera and a chef from the previous tenant Frej, and has a front lit by garage door windows and a live edge bar leading back into the wildlife-muraled tasting menu room, where you can watch the chefs prep epically interesting meals that Leif Ericson would call "[something incomprehensible, he doesn't speak English]".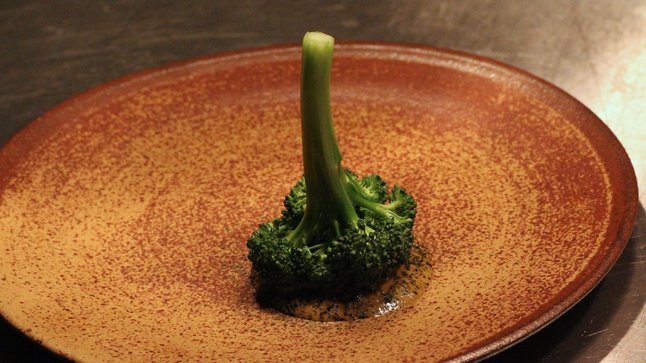 While the tasting menu changes everyday and is tailored to include the freshest possible ingredients like this upside-down broccoli w/ mussel seaweed, the impressively artistic bar menu's that's always available and isn't exactly "cheeseburgers", includes pork belly and heart w/ parsnips & anchovies, and poached egg w/ black kale.

Drinks, meanwhile, include the US Export ("Whiskeys of All Sorts", pear, maple & Angostura), as well as a homemade Red Bull vodka replacement featuring all sorts of natural energizers like ginseng, which will still make you say incomprehensible things.