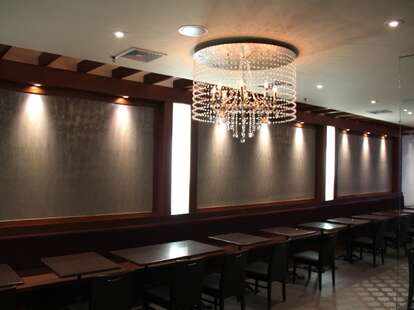 Because nobody goes to K-Town for the meatloaf (even though you do totally kill "Paradise by the Dashboard Light"), promise your friends you'll stick to Springsteen, then sweeten the deal with some pre-karaoke grub at Dong Chun Hong. Installing the chef from the Seoul original, the team behind this Korean-Chinese fusion joint's also amped up the banquet-hall-esque space with plenty of ornate crystal chandeliers, glitzy beaded partitions, and spotlit tables.
Leading off the menu are a pair of tasting options that both include shark fin soup, stir-fried shredded pork Jap Chae, and cream-sauced fried prawns, but one goes a little crazier by mixing in cold dishes of jellyfish & roast beef, and minced beef-stuffed fried sea cucumber, though that might be too weird for any frickle eaters.
You can also go a la carte and choose from all manner of dumplings both Korean and Chinese, more than a dozen noodle dishes, a house special seafood hot pot sporting fried scorched rice, and a steamed Chinese bun known as Ggot Bbang, no longer a phrase only issued by stutterers making mid-coitus "Got Milk?" jokes.
And to make sure nobody freaks out when you totally do end up kicking out some Meat Loaf, hooch includes brews both domestic and imported, Korean sojus, and even the expensive Chinese liquors", but hey, Two Out of Three Ain't Bad!