From sushi to fried chicken, the Blue Ribbon empire has long given NYers rolls, but their latest outpost -- Blue Ribbon Sushi Izakaya -- finally serves both in the same place: a 150-seater that brings the feel of a "unique Japanese tavern stateside". Using copious paper lanterns to dimly light the cavernous space, BR's familiar, clean-lined wooden aesthetic provides a backdrop for a massive menu of Asian small plates hit with a downhome touch, with apps including baked clams w/ miso butter, beef marrow w/ sea salt, and, in homage to the LES location, miso chicken liver mousse on challah, aka, a culinary throwing star of David. More interested in skewering meats than hilarious cultural mash-ups, Kushiyaki are also heavily repped, arriving stuck through rock shrimp (w/ tomatillo ponzu), smoked pork belly, sesame-glazed meatballs, and even wasabi Wagyu tenderloin. The most exciting options, though, may be the homestyle ones, which include BR's famous fried chicken w/ wasabi honey & chili sauce; fried rice studded with everything from oxtail & bone marrow to uni & squid ink; gargantuan, bone-in ribsteaks for two w/ onion tempura; and the mushroom- & roe-topped Dynamite Burger, which ironically never blows. Of course, they'll be flying in fish daily to crank out rawness from jellyfish to whole lobster sashimi, and everything's lubed up by shochu service, not to be confused with traditional bottle service, which has long been responsible for NYers roll...ing into clubs.
Recommended Video
Flaming Blowtorches And Savory Donuts At The Gastro Garage Pop-up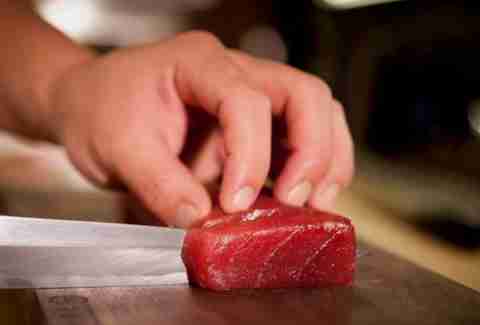 Previous Venue
Next Venue
Venue Description
1. Thompson LES Hotel
190 Allen St, New York, NY 10002
With 141 rooms and a rooftop pool and bar on the bustling LES, Thompson Hotel's surrounded by unique restaurants, bars, and nightlife so you'll have plenty to do in the area. It's also home to Blue Ribbon Sushi Izakaya and, most recently, the Blue Ribbon Beer Garden.