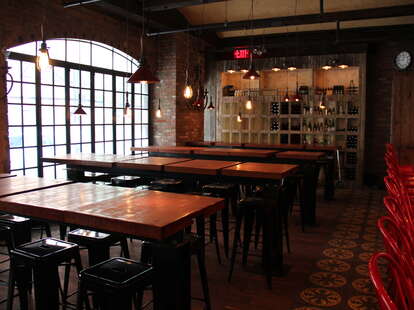 Like the young Spanish 3rd wife of that old rich guy from your country club used to say, "Nothing goes together like G&Ts and tapas", advice they're definitely taking at Cata: a three-room, bi-level downtown destination from the team behind West Village favorite Alta that seems to have melded Bowery brick with a chateau's grand arched windows & ceilings, and shelves upon shelves of vino
The street level actually looks like a wine bar, and while it does serve plenty of that by the glass, it also deals in choice brews (Nils Oscar IPA, Breckenridge's Lucky U...), and, most crucially, 20 gin & tonics, each carefully matched to its garnish, e.g.: Uncle Val's, Schweppes & celery; Death's Door, Q & garlic; and lemon thyme rounding out Caorunn and Vintage Tonic, which must have tons of Sugar.
You wanted more! More about the food!... and you'll get it, with small plates of jalapeno-glazed chicken/foie gras meatballs, smoked lamb ribs, and crispy prawns, as well as montaditos (sandwiches!) like a warm Spanish lobster roll with pimenton butter & tarragon, and the ham, fontina, and black truffle Bikini
There's rice and pastas for the divvying, from paella with chorizo, prawns & chicken wings, to lobster fideos with roasted tomato & creme fraiche -- though if nothing goes together like you and that, good luck landing a woman of any age or nationality.