Ahhh, Nantucket -- home of Melville's Pequod, famed summertime idyll, and spawner of men who wear pants covered in lobsters... probably just hoping to get a peek at the thing men from Nantucket are most famous for. Bringing Manhattan Nantucket's charm -- and lobster rolls you can spill on your pants -- is the Grey Lady

From a Nantucketer trio (chef/bartender twin bros, plus a dude who owns two bars there), the Grey Lady's named for the island's constant fog, and's touched up the old White Slab Palace with vintage photos of actual gray ladies, chrome lights that could've come from a ship, and a centerpiece anchor, though refreshingly, the nautical touches don't go overboard. Like the island itself, there are many approaches to the menu

By Sea: Fresh oysters (Gooseberry, Fisher Island...) are culled from the Fulton Market, a "classic Maine lobster roll" bursts on its butter-fried bun, whole black sea bass is artfully grilled, and cast iron pots brim with steamers sided w/ clam broth and brown butter sauce for dipping, so your mollusk will be up to snuff

By Land: Expect live-edge Saxelby cheese boards, hand-cut fries w/ VT cheddar fondue, and potato-bunned cheeseburgers w/ onion confit & applewood smoked bacon, though all bacon in your vicinity is eventually smoked

By... Drink?: Twelve taps & a grip of bottles are highlighted by Cisco's Whale's Tale Pale Ale & Sankaty Light, plus liter cans of DAB; 'tails count the "classic Nantucket drink" Life is Good (vodka, sprite, Red Bull & cran), and a four-variety Rum Pig, enough hooch that even those not from Nantucket will walk around like they could pleasure themselves.
Recommended Video
This Pizza Has Fried Chicken for Crust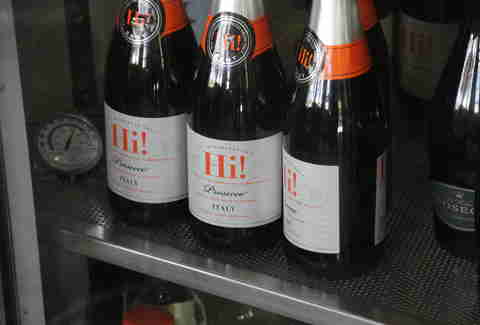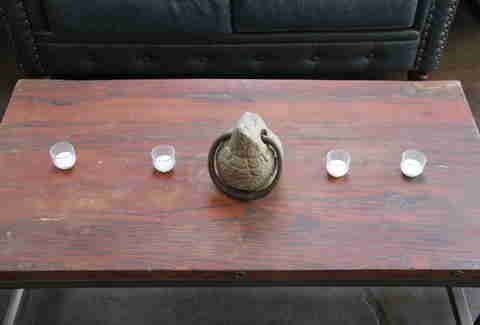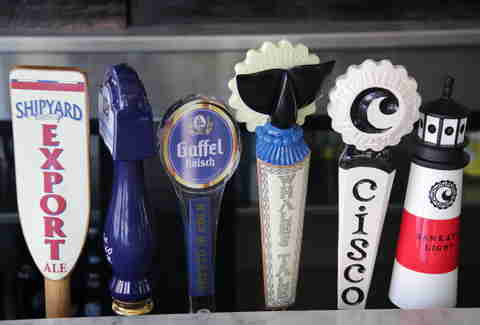 Previous Venue
Next Venue
Venue Description
1. Grey Lady
77 Delancey St, New York, NY 10002
Bringing a bit of Nantucket to the LES, Grey Lady excels at simplicity. The menu is limited in size but boasts rich flavor, offering New England classics like bacon-wrapped scallops, lobster rolls, and lest we forget: a solid oyster happy hour. When paired with a mixology-forward specialty cocktail or a summery glass of rosé, any venture in this cozy, subtly maritime-themed spot marks the beginnings of a good meal.