Even if you have a serious beef with Chinese takeout broccoli, you'd be a fool to skip over Mission Chinese Food and its seemingly run-of-the-mill counter & open kitchen, as both its back-lit menu and pulls of "free keg beer" reveal something much more awesome: free freakin' beer. Oh, and also food that won its fame in notoriously picky San Fran! Walk through a narrow corridor beside the kitchen and you'll discover a Chinese New Year's rave of a dining room, where glowing black lights and pink neon illuminate chairs hanging from the rafters above the seats, and a twisted paper dragon dangling over the bar, mocking you as the food's building heat has you breathing fire. Speaking of which, that food's prepped by vets from Momofuku, Blue Hill, and, of course, the SF original, and includes adventurous fried chicken wings covered in chili peppers & crispy tripe; lamb cheek dumplings w/ black vinegar, rock sugar, and numbing peppercorns that leave a tingling sensation akin to a fizzy soda; and Thrice Cooked Bacon, approximately two more times than was necessary to make you want to eat it. A full liquor license is forthcoming, but for now it's suds from Empire, keg wines, and soju-based cocktails like the Great Northern (grapefruit, yuzu, sparkling wine), and the mirin/muddled Umeboshi/shiso One Eyed Jack, a man whose ubiquitous presence in Chinese takeout restaurants accounts for why you avoid their beef.
Recommended Video
This Mojito Hot Toddy Is the Destroyer of Colds
Previous Venue
Next Venue
Venue Description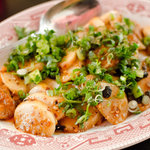 1. Mission Chinese Food
171 E Broadway, New York, NY 10002
The New York outpost of Danny Bowien's buzzy Chinese restaurant had a shaky start in the city -- after opening on Orchard Street in 2012, the restaurant closed down due to landlord issues and relocated to East Broadway. The Lower East Side spot is a destination for trendy and original Chinese food, far different from what you'll find at the family-owned banquet halls in Chinatown. Some dishes are spicy Szechuan, but for the most part, the menu draws from all over China and just about everywhere else (there's pizza on the menu). Make sure you get the fried rice, it's unbelievable.