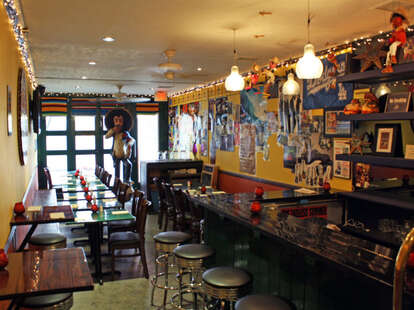 There's honor in doing something simple really well, which is why Jenny finally threw Forrest a hump. Doing casual Mex to the max: Taqueria LES.
Expanding beyond its Jersey City roots, this laid-back cantina blends Old World Mexican art & bandito portraits with kitschy pop culture (Butch/Sundance, Cobain, etc.) in its eye-catching sleeve, but there's no fusion when it comes to their taco-mestibles, which adhere to 10 sacred Commandments including "no nachos" and "no pillow-size burritos", so those wanting one can dream on. Topped only with onions, cilantro, and salsa, specially sourced soft shells are wrapped around fillings like fried tilapia, 24hr-marinated spicy hot skirt steak, barbacoa pulled from a four-hour-roasted bone-in shoulder, and Puebla-sourced prickly pear cactus that's griddle cooked to remove all the "mucous", which "doesn't sound too pretty but it rocks", meaning you can expect some tasty licks. Portuguese bun tortas are layered with carnitas or breaded steak before being slathered w/ beans, lettuce, tomato, avocado & jalapeno; platters range from salsa-simmered salt-cured flank steak to green-sauced pork chops; and deep-fried flautas include the potato "Papa", though really he's just some couch usurper named Jim your mom married.
Not to be out-simplified, the bar'll feature standard Mexibrews, 15 tequilas, a splash of mezcals, and don't-ask-for-frozen margs either straight-up or on the rocks, just like Forrest's relationship with Lieutenant Dan after those prosties bailed.