With restaurants in this fair city fancying up everything from grilled cheese to popcorn, it was inevitable that one final childhood staple would also be turned gourmet. But since it turns out The Goonies is a movie and you can't eat it, you're going to have to settle for something even more delicious: pizza bagels, at L'asso EV. After realizing there was an unsettling dearth of great bagels in the East Village, the L'asso team went on a five-month bagel-discovery odyssey... to New Orleans!... but also all over NY, after which they settled on steaming, then wood-firing their noshes in a pizza oven, Montreal-style, before realizing they really needed to morph them into pizzas. Their initial six crispy, cheesy, tangy options include the Bufalina D.O.C. w/ tomato sauce, fresh tomatoes, and a glob of cool buffalo mozz on a rosemary bagel; the Albondigas w/ homemade meatballs & fresh garlic on an everything; and the sausage, 'shrooms & grated ricotta Supreme, which should also presumably have kids lined up around the block overnight. And if you like your pizza bagels a little less pizza-y, and a whole lot more bagel-y, they've also worked up a Jewtacular smoked salmon number that's piled with cream cheese, mozz, capers & dill on an herb bagel, which just like the rest, should put a little Chunk back in your life.
Recommended Video
Roasted Red Pepper Deviled Eggs: Perfect for Parties, Grandma-Approved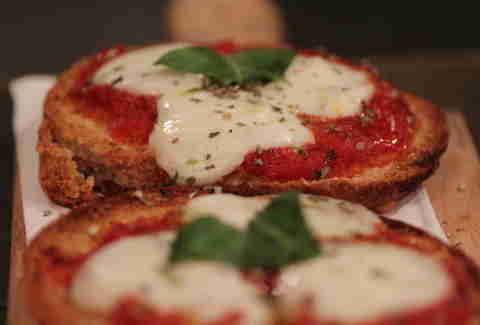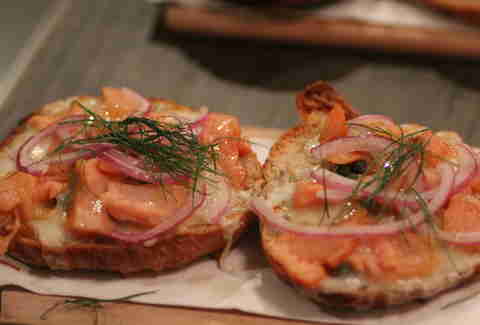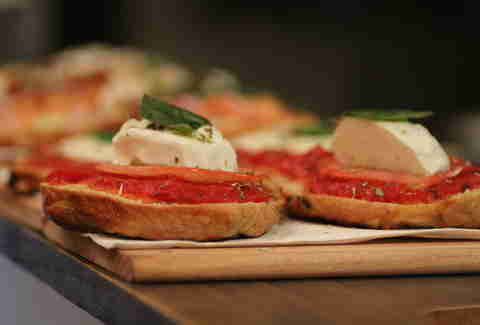 Previous Venue
Next Venue
Venue Description
1. L'asso EV
107 1st Ave, New York, NY 10003
L'asso is storming the East Village with next-level organic pies topped with everything from pancetta to potato chips. The space's equipped with dual wood-fired ovens, a bar pumping out craft brews, and a crazy mural of a large, winged pyramid.