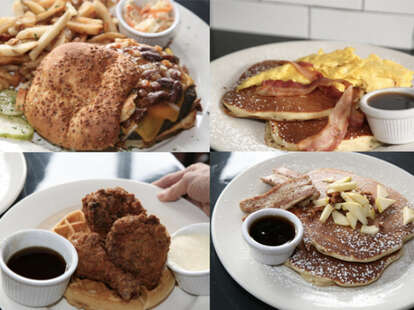 Because Adrian Peterson shouldn't be the only "All Day" associated with a bad team, the crew behind Williamsburg's B.A.D. (Breakfast All Day) Burger is bringing their 24/7 crazytown diner to Manhattan, decking their new digs with tile floors, a shiny black and red color scheme, and a piano upfront, which at 5a is probably the only thing in the place guaranteed to get some play.
Breakfasty options will of course be avail all day, with more bonkers items including the Bird's Eye (holed-out brioche filled w/ two eggs and topped with chili), the fried chicken Rebel Yell sando w/ "scram'd" eggs & white gravy, and French toast rolled in crushed cornflakes (tagline: They'rrrrrrre GreAAAAGGGGGHHH NOOOOO!!!!).
The burgers are also intense, avail DIY with crap-loads of toppings (ham, sausage, cream cheese...) and sauces (brown gravy, pomegranate teriyaki, pesto mayo...), or as a pre-fab number like the monstrous Wake & Bake, sporting two eggs, bacon, and jack, or the pulled pork-topped Piggy-Back, which ironically will be hard to give to anyone prone to eating them.
Like any spoon worth its grease, the rest of the menu is pretty much endless, from cheddar-bacon or disco fries, to dogs like the BBQ-sauced Lord of the (onion) Rings, plus sweets from BK's NYC ICY including deep-fried ice cream chimichangas, and Ice Cream Soup, enough options that you could spend All Day just Pondering them.