No, it's not spelled with a Y, but it still totally rocks, so come sail away... to Gramercy (!), at this ode to the Mediterranean very awesomely focused on food on sticks. It's helmed by Nikolaos Stavrakakis, who you may not know, but really should, seeing as he was voted Cook of the Year in Greece and did time at what many consider to be the best restaurant in the world: Noma in Copenhagen.

This table's used for dining in the evening and as pick-up station during lunch. The old garage door from the building's fire department warehouse days is adorned with an old-school Grecian beer logo that translates to "It's good for you". Sounds true!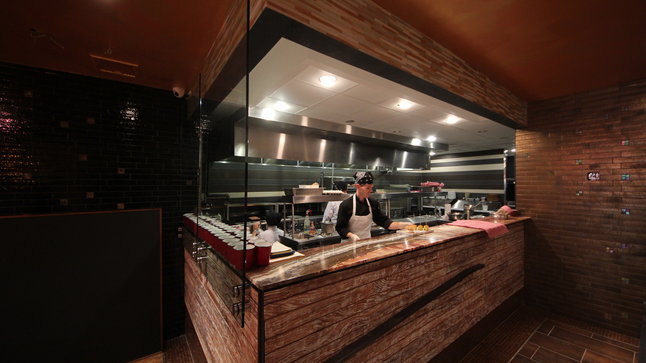 This is an open kitchen. Those are not Solo cups on the left, frat boy.

They will literally give you a sack of potatoes -- slow-roasted ones with hot feta sauce on the side.

The "Spread Symposium" sampler includes jalapeno hummus, tzatziki, spicy cheese spread & smoked roasted eggplant.

The ground lamb sticks are flavored w/ cumin & garlic, but you can mix & match as many sticks as you want, including 24hr marinated pork, chicken, and shrimp w/ orange & olive oil.

Literally shovel these feta & oregano fries into your mouth.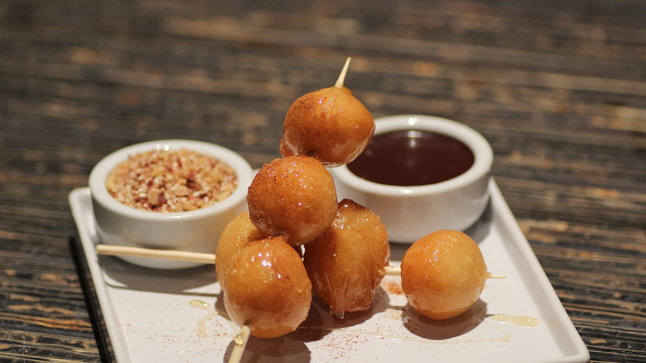 While these look like something mom brought into school for your 6th birthday, they're actually honey fritters on a stick. Time to make the honey fritters on a stick! More desserts include angel hair mille-feuille w/ almond hazelnut Chantilly cream sprinkled w/ rosewater & honey (which you can see by scrolling through the images up top).

While they've got a full bar and cocktails like the Basque w/ Monkey Shoulder Scotch & orange bitters, the liquid highlight comes from their world champion barista: 15 coffee variations like the pictured Freddo, which has a lot more character than the guy from the The Godfather who was under a Grand Delusion.