You can jazz up raw fish as much as you want, but if it isn't fresh, it'll end up getting run out of town, or at the very least thrown out of the house by Uncle Phil. Man, if he won't eat it, nobody will! For edibles from the fresh princes of omakase, check out Neta. Literally translating to "the fresh ingredients of sushi", Neta's a collaboration between the former head chefs at both Masa and Bar Masa, who'll be working up artful rawness from behind an open-kitchen-fronting sushi bar that's inlaid with seemingly irregular ebony blocks, and surrounded by "floating" tables, exactly where Modest Mouse prefers to get their eat on. The omakase menu follows the chefs' seasonal whims, but there're serious a la carte options for those not blowing it out, including dungeness crab w/ wild parsley, shrimp & shiso wrapped in marinated daikon, grilled toro rolls, and insanely fresh, straight-up slices of everything from deep sea snapper to orange clam, which probably belongs to the ginger on your plate. As at Masa, small plates from the kitchen aren't an afterthought, counting razor clam risotto w/ soy braised veal & chinese celery, uni perched atop a grilled scallop that rests in a pool of garlic soy butter, and truffle-salted mizuna greens w/ crispy baby icefish, though honestly, you could go anywhere to get the cold shoulder from babes. If you haven't completely polished off your appetite, polish off some peanut butter ice cream, and bay-leaf-infused creme brulee, stuff you'll probably want to cut out of your diet when it rolls around to Summertime.
Recommended Video
This Breakfast Sandwich Is the Size of a Car Tire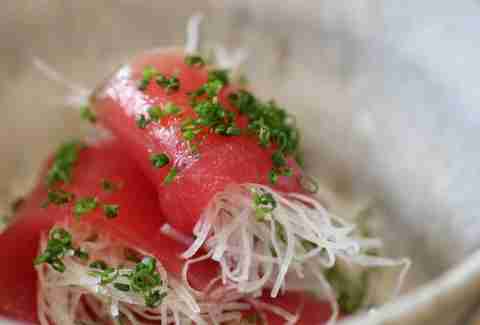 Previous Venue
Next Venue
Venue Description
1. Neta
61 W 8th St, New York, NY 10011
There's a minimalist air to Neta in the West Village, which makes it all the easier to focus on the impeccable fresh flavors. Neta, which literally translates to "the fresh ingredients of sushi," is run by two former head chefs at New York sushi megahouse Masa -- and you can taste their experience (as well as see it in the prices). Daily omakase menus -- plates picked by the chef and eaten at a counter overlooking his work station -- are the ultimate indulgence. Otherwise, a la carte options will do: be it any of the small plates, a full sushi selection, or playful desserts like bay leaf-infused creme brûlée.