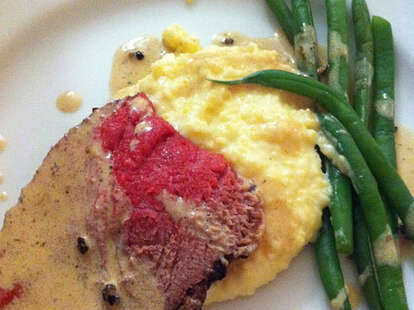 Supper clubs evince certain Southern values, using food to strengthen social ties, and eschewing formality in favor of come-as-you-are hospitality, assuming you = white and rich. Deciding exclusivity is for chumps, the gal behind City Grit
From an ex-Southerner who started hosting private supper parties after a particularly harsh NYC winter sent her on a fruitless homesick search for great grits, this formerly invite-only down-home dinner's opening its door to anyone who can score a ticket and's taking the show on the road, starting with three NYC dates to be held in the cafeteria of a former Catholic learning institution they refer to as "The Old School", so...expect plenty of cheeeeeese?
Basing each meal on a theme, the opening act's being labeled "Breakfast for Dinner", with possible noshes including bacon soup with bacon/ egg/ cheese dumplings; a poached egg-topped arugula salad w/ onion jam, grits croutons; and housemade sausage-enhanced chicken & waffles, which when it comes to eating you aren't, and you won't.
The second two dinners're disarmingly named "Parlez Vous Francais Y'all", and'll mix Gallic tastes into the equation with dishes such as Country Profiteroles w/ pimento cheese and pulled pork, filet au poivre with bechamel grits, beurre blanc'd & cornbread-stuffed lemon sole, and veal that's glazed in bourbon, which ironically has been known to get you too stuck in a box you'd rather not be in
Accompanying each course'll be a selection of wines, Champagne-based cocktails, and Southern beers, appropriate, as even the most prejudiced Southerner is cool with the stouts.