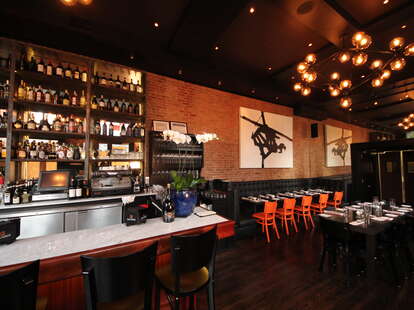 In New York, the corner has long been where you go to get drugs/nuanced takes on the world political economy from people on said drugs. In Italy, though, it's apparently where you go to get delicious plates of meat and pasta, as proven by Angolo Soho, whose name means -- here it comes -- "corner", and whose sexy barroom space includes black & orange tables, a marble-topped bar, and a constellation of orb chandeliers
The chef's late of Dell'Anima and Cannibal, experience borne out in a charcuterie program that includes chicken liver pate, an incredibly light, mousse-like pork terrine, and a prosciutto tasting featuring two Italians (Parma, San Daniele) and La Quercia, which hails from the most Italian place in America: Iowa. Freshly made pastas include fettuccine rigate alla carbonara w/ braised pancetta, and garganelli with pan-roasted "exotic" mushrooms, while mains earn serious meat cred thanks to a caramelized fennel, honey, and cherry pepper-topped, 4in-thick beast of a double-cut pork chop, which's been brined for 24hrs in salt, sugar, and allspice. That's right, all the spice.
While wine and cocktails'll be abundant, the highlight here's a tidy but impressive Italian suds selection including a large format dessert beer that "drinks like a sherry", and Verdi Imperial Stout that's brewed in honor of the composer and features a cappuccino head & "hot finish", just like the end of that guy on the corner's rant about America's imperialist policies, and their effects on the price of his drugs.