Brave the early morning Chinatown air and get at this til-7a OG spot for some "awesome" Chinese that includes all the familiar staples alongside more esoteric options like oyster-sauced chicken wings, fried salt & pepper pork chops, and Hot Curry Crabs, also what Eddy calls his imaginary STDs when trying to convince friends that he gets laid.
Recommended Video
Party on Like Rudolph With This Red Nose Punch
Previous Venue
Next Venue
Venue Description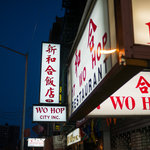 1. Wo-Hop
17 Mott St, New York, NY 10013
A quirky, subterranean Chinese style diner, Wo Hop is a perennial Chinatown fave that's been around since 1938. Wo Hop offers all the familiar staples alongside more adventurous options like chicken with oyster sauce and meat-and-egg stuffed crab. It hits the spot on all the comfort food fronts, and it's open until 7am to quench late-night munchies.