Sure, he's lorded over Iron Chef and served the fanciest of fancypeople at his eponymous restaurants, but it turns out that all that time, chef Morimoto just wanted to serve you nachos. And that's exactly what he's prepared to do in his artsy Tribeca forest of Western comfort food. True to its name, the space is slung with 62ft canvases (Canvi? Let's do canvi.), each hand-painted on a street in California, then hand-hung by the artist. These Indonesian vine lamps resemble something out of an HR Giger set and cast tree-shaped shadows even more badass than Alec Baldwin's. The second level looks down on everything. Much like these nachos look down on all other nachos, thanks to tempura shrimp, gauc, ranch & spicy gochujang aioli. Other things you can get that definitely aren't sushi, 'til 4a: buttermilk-drenched, ginger scallion jalapeno-sauced fried chicken wings, a kurobota corn dog w/ a layer of pate on the inside, and the "Duck Duck Cous" featuring seared, confit, and mole duck jus. Similarly, dessert refuses to eff around, including this boozy creme caramel made w/ brandy vanilla custard, or a "Tiramisu Burger", which's actually a mini brioche bun soaked in amaretto/Kahlua coffee syrup and filled w/ marsala wine mascarpone mousse that won't give much comfort to your cardiologist.
Recommended Video
Attention All Wine Drinkers: This Is the Pasta You've Been Waiting For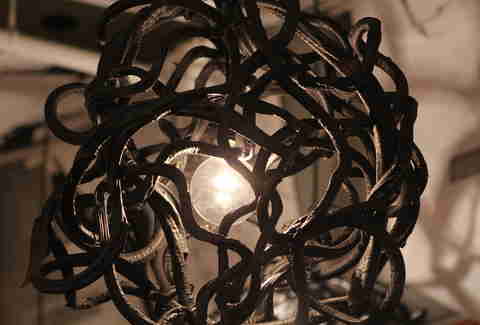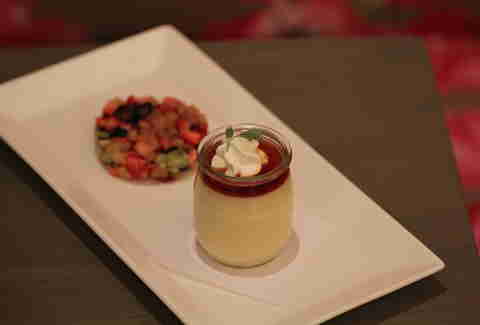 Previous Venue
Next Venue
Venue Description
1. Tribeca Canvas
313 Church St, New York, NY 10013
Tribeca Canvas is Iron Chef Morimoto's realm of Western comfort food served below an array of custom painted canvases. Aside from sushi, Morimoto is serving up classy version of nachos, fried chicken, and corn dogs.