New American from the Red Cat/Harrison family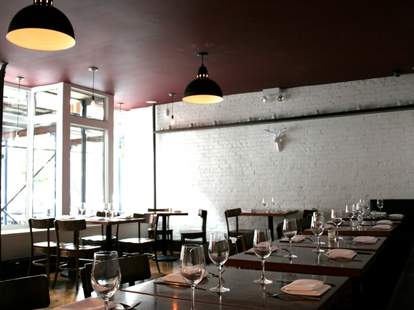 As America is a great melting pot, so is our cuisine, which is why we totally invented fondue. What, Switzerland? You wanna go? Stealing from all over to make a joint uniquely our own: Left Bank.
Started by two buds from the Red Cat/Harrison crew, LB's fusing liberally poached pan-European flavors to create a "Contemporary City American" joint in what could be a laid-back art collector's hunting lodge, with walls sporting (possibly for sale) donated portraits, a vintage crystal & iron chandelier, a poured-concrete bar, and an all-white mounted deer head, though the rest of it's likely now beautifully tanned. Sticking to simplicity (3-4 locally sourced ingredients per dish), bites will feature potato gnocchi w/ summer pesto & VT butter, lamb tartare chopped with potatoes, anchovies, and Parm, and a natural jus'd pan-roasted pork chop w/ young sauerkraut, proving they don't need to grow up to become dour. They also plan to bring in local whole animals to butcher as they see fit, from Amish Red Cockerels, which originally came over with the pilgrims and apparently are a very "chicken-y chicken", to half hogs that'll be turned into rillettes, bolognese, and head cheese (good to see the neighborhood still has one even after the trannies picked up sticks).
The brews were "cherry-picked" after tireless hours of tastings (Sixpoint cans, the house-fave Belgium Poperings Hommel...), while the cocktail program includes tipples both classic and seasonal, such as a pink Champagne number paying homage to the building's '60s life as The International Stud, reminding you of something else America totally invented: the gay bar. What, Ancient Greece? You wanna go?