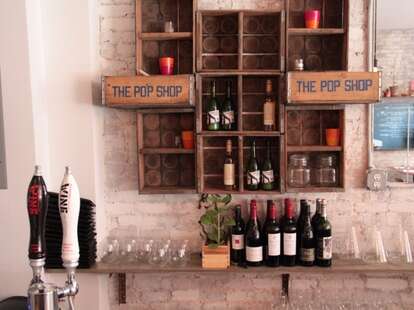 Traveling through Asia requires being open to new experiences and cultures, which is only fair considering how "open" some of their "women" supposedly were to your roommate. For a resto bringing healthier experimentation back from Asia: Wong.
Having traversed Southeast Asia, China, and India on an epic flavor quest, former Cafe Asean chef Simpson Wong has returned to NY with an arsenal of new culinary tricks, and's putting them on display (literally, thanks to the open kitchen) in a casual cafe with offbeat touches like communal tables pulled from his house, and carafes that're actually beakers and Erlenmeyer flasks, bringing new meaning to the term "cocktail nerd". Highly seasonal and market-driven, the pan-Asian menu's separated into three categories, beginning with composed Small Plates of Newport steak tataki (bone marrow brioche, pho, Amagansett salt), mackerel sashimi (nectarine, flounder roe, yogurt, popcorn), scallops w/ crispy duck tongue & jellyfish, and grilled corn w/ duck fat, chicharones, and "shrimp floss" -- unexpected, as normally you associate them with Po' Boys. Main options, meanwhile, run from "salty yolk" lobster egg foo young to Chinese-style pork chops w/ macadamias & Asian pear, while those craving Noodles, Rice, and Flatbreads can journey through Thai sausage- & fennel-topped Vietnamese 'za, clay pot sepia rice w/ squid-stuffed peppers & crispy tentacles, and handkerchief egg noodles w/ oxtail and garden snails, which oddly can't get into MSG.
They've also got desserts from a former Daniel pastry chef, from roast duck-infused ice cream w/ star anise-poached plums, to the Chocolate Snowball: chocolate pudding, Italian meringue, and blackout cake, ironically the exact thing that could lead you to hanging out with some of those "open" "women".