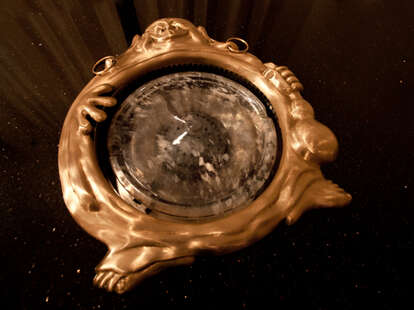 When the entertainment and food worlds collide, the results are often unique, unless of course you're Billy Joel, in which case, dude, you just rode your motorcycle through the wall of a Carrabba's again. For a food & entertainment mash-up that Ain't No Crime: Kristalbelli.
Coming to the US from "Asia's leading entertainment mogul", investors like Lil Wayne's manger, and a chef from L'Atelier De Joel Robuchon, this blinged-out, dual-story palace of Korean BBQ has dining areas loaded with marble tables, a whitewashed private party room, and a lounge boasting a crystal-topped bar, though don't count on her pouring shots down your face. Further setting it apart from the K-town pack are owner-designed, one-of-a-kind-in-NYC, in-table grills made from 99.9% natural crystal (each one forming the belly of the Buddha-esque figure that rings it) that sear comestibles before your eyes using infrared heat, enabling the "inside to get cooked simultaneously with the outside, so the meat holds more juice", a trick Omar Epps wishes he had known. They're also stepping up what'll go on said grill, with meaty options (rib eye, Wagyu, pork belly) sided by locally sourced sea creatures (shrimp, scallops, etc...) sourced from the "local farmer's market", plus standards like bulgogi, japchae, and bibimbap; the lounge, meanwhile, will have small plates of Emperor's Cuisine, serving assorted beef & vegetables with rice paper wraps, and making brisket into "sushi", turning a typically healthy cuisine into one that'll put rolls on you.
They'll also have house 'tails, a legit wine list, and totally top-shelf Korean liquors (soju know you'll be drinking!), plus they've got an insane lineup of opening parties including one for the launch of their headphone collab with Monster called Diamond Tears, exactly what Billy will cry when he realizes he's made another total scene at an Italian restaurant.